Dinosaur Park of Coco Cabana is a new attraction in Miri City. It is strategically located near famous landmark of marina park of Miri City, including the amazing sunset view beach front, Seahorse light house, Miri Central Park and the oil barrel shaped Miri City Hall. Coco Cabana is also the top tourist attraction with weekly market, art and culture activities, and bicycle rentals.
The Dinosaur Park features Aninimatronics controlled all time favorite dinosaurs like the Tyrannosaurus (T-Rex), Brachiosaurus, Parasaurolophus, Spinosaurus, Carnotaurus, Baryonyx, Pterocactyl, and not to forget the velociraptors. It is mini park for fans of dinosaurs from the Jurassic era .
It is a recommended relaxation and education trip for dinosaur lovers and family with kids.
Address : Coco Cabana, Lot 2260, Jln Bandaraya, 98000 Miri, Sarawak
Latitude : 4.384559306396299
Longitude : 113.96979153156282
Open map with : [Waze] [Google Map] [Bing Map] [HERE Map]
Exhibition officially started : 24th December 2021
Operation hours :
Weekday (Monday – Friday) : 3.00PM-10.00PM
Weekend (Saturday, Sunday) or Public Holiday : 9.00AM-10.00PM
When coming during hot noon and evening time, it is recommended for having sun screen and umbrella. Most recommend time is during morning or late evening when the surrounding is bright enough for photograph opportunity with the dinosaurs. At night the scene is lit up with colorful flood lights, allowing for amazing night photography.
There is ample of car parking space nearby, occasionally can be full during peak hours and school holidays.
Our visit to the dinosaur park at Coco Cabana Miri City.
Entrance Fee
Children (11 years old and below) RM 5.00
Adult (12 years old and above) RM 10.00
The ticketing booth is opposite the main entrance to the exhibition. It is located beside the car park of Coco Cabana.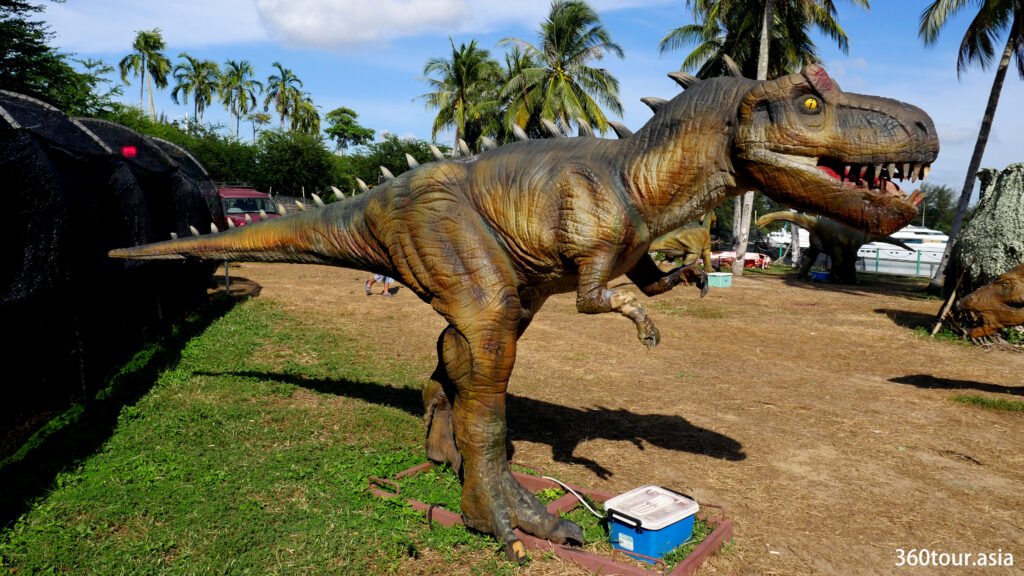 Rules & Conditions
Visitors are to comply with all safety rules and regulations of the exhibition area.
No outside food and drinks allowed.
Any sculpture/ display damages caused by visitors will be fined according to the cost billed by the organizer.
Take care of your children and own belongings. Organizer is not liable for any lost of personal goods.
Visitors are allowed to take photo for personal use only, any reproduction or reuse for commercial purpose is strictly prohibited.
All visitors agreed the above terms and condition before their entry to the event area.
The maximum limit of people is 300 people at any one time. This limit may change depending on the standard operating procedure.
The whole park is a open ground beside the marina park, featuring tall coconut trees and open grassland. The exhibition is set up as a environment of wildlife adventure with well decorated jeeps and off road vehicles. Visitors can have a great photographic opportunity here, in a well set environment.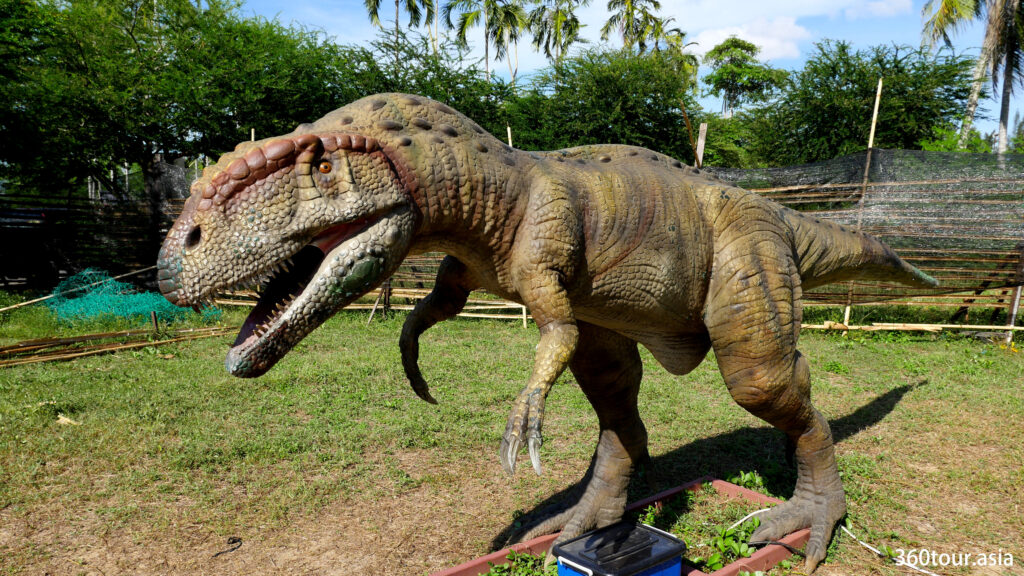 All the dinosaurs in exhibition here are animatronic dinosaurs, which powered by motors, gears and other mechanical mechanisms. Each dinosaurs have different unique movements, some opens and closes its mouth, some shakes their tails, some move their heads and some even move their hands. It is appears interactive to the visitors.
The tallest dinosaur in the exhibition is the Brachiosaurus. It is two story tall with its head nearing the leaves of the coconut trees. The animatronic Brachiosaurus appears like feeding on the coconut leaves.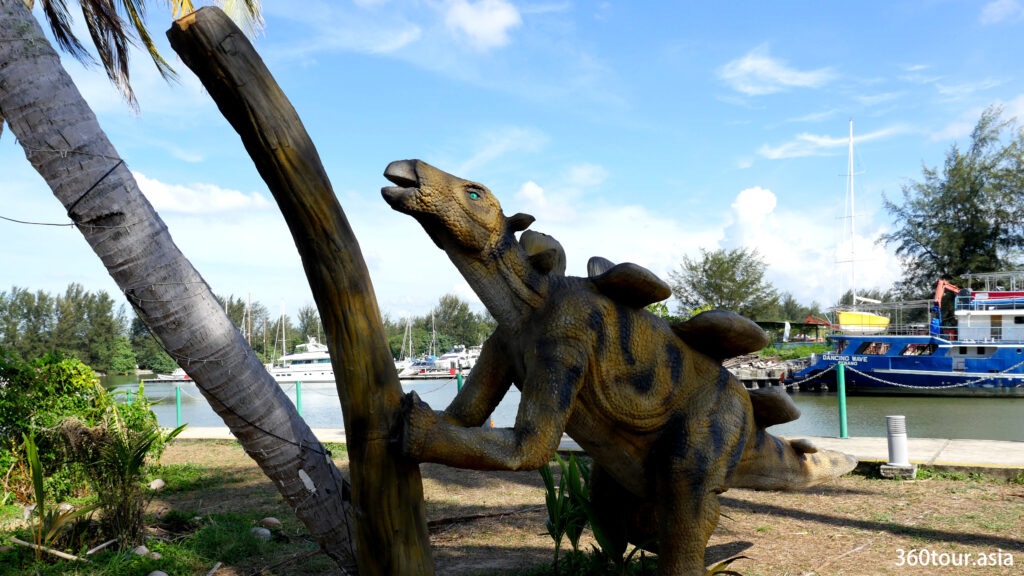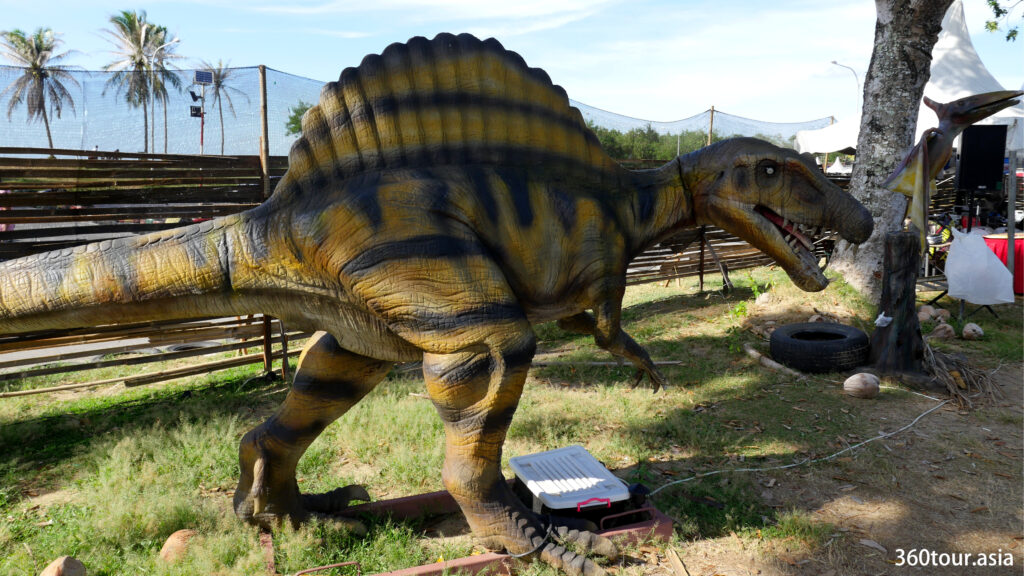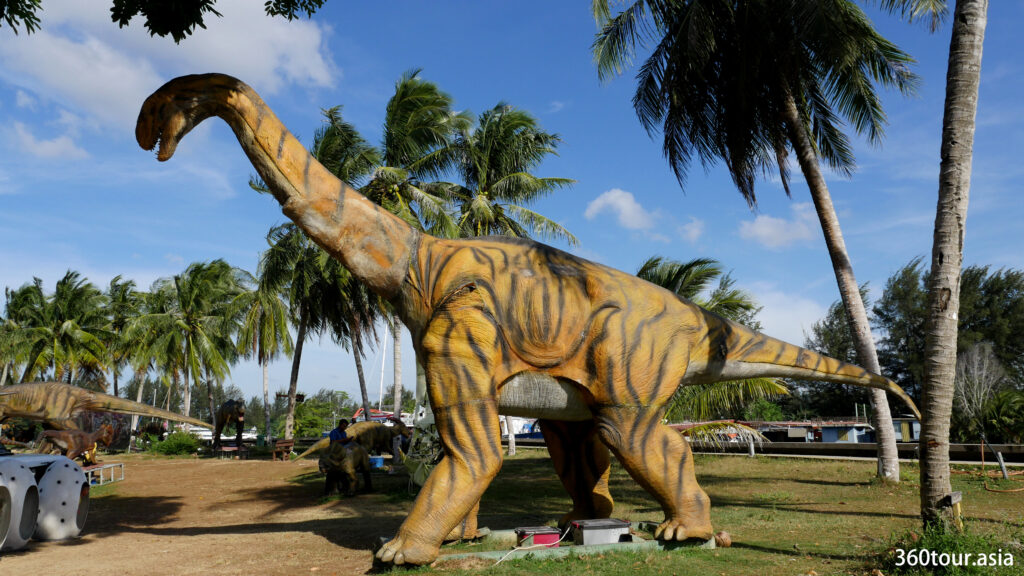 This exhibition is a great meetup place for families who love dinosaurs. Enjoy your walk along the path at the exhibition and don't forget to have a nice photographic opportunity. After your visit to the park, you can continue your journey to the market and enjoy the sunset at the beach nearby.