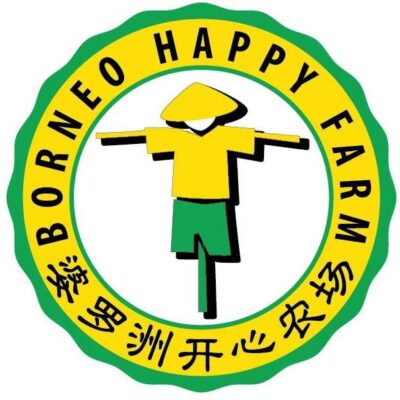 Borneo Happy Farm is a new tourist attraction and family outings location in Kuching which is just 18km away from Kuching city center (around 45 mins drive). Family and kids will love this place as there is many to be learn from this farm, not limited to knowing farm animals, learning life of the farming community and walking along the rainforest. It is both breath taking and educational.
Address : Lot 485, Sungai Moyan No 3, Jalan Pei-Yuan Selatan, Batu Kawa-Bau Kuching, Malaysia
Latitude : 1.4669758409359945
Longitude : 110.24188041687013
Open map with : [Waze] [Google Map] [Bing Map] [HERE Map]
Opening Hours
Mon – Fri: 8:30am – 5:00pm
Sat, Sun & Public Holidays: 8:30am – 5:00pm
Ticket counter will be closed at 04:30pm.
Recommended visiting time: at least 3 hours in the farm to enjoy all the attraction in the farm.

Things to do at Borneo Happy Farm :
Learn different types of farm animals ranging from horse, goats, buffaloes, cows, chickens, ducks, geese and more.
Learn different types of farm pets ranging from rabbits, guinea pigs, tortoise, monkeys and more.
Learn different types of local fruit trees and plantation in the farm, ranging from durian, mangosteen, langsat, banana, rambutan, pepper, taro and wild fruits of Borneo.
Learn how various fishes such as Silver Arowana, Red Arowana, Green Arowana, Empurau and Flowerhorn is raised in the pond at the farm.
Learn different type of tropical rainforest trees and how they are used.
Engage in friendly activities such as feeding the farm animals.
Challenge yourself at the various obstacle course in the farm.
Camping at Borneo camping village (not open for public visits) beside the tropical rainforest .
Understands different farm culture with different farm houses in the farm.
Don't forget to take photos, and buy some souvenirs home.
Entrance fee (Based on 0% GST):
Sarawakian Adult @ RM 26.50; Sarawakian Child @ RM 17
Malaysian Adult @ RM 36; Malaysian Child @ RM 26.50
International Adult @ RM 65; International Child @ RM 45
*Aged 3-12 years old consider as child.
Do contact them for latest group price and group package.
Telephone : 016-898 8084, 019-876 4037
Fax : 082-417 708
E-mail : [email protected]
Official Website : https://www.borneohappyfarm.com/
Soft Opening : 16th November 2017
All Signage and Information board in this park comes in dual written language : English and Chinese (Traditional).
Three spoken language is available for the Automatic Audio Commentary System in each station : English, Chinese and Bahasa Malaysia.
Welcome to Borneo Happy Farm
The Borneo Happy Farm is accessible via Jalan Pei Yuan Sungai Moyan No. 3 with approximately 4.5 km off Jalan Batu Kawa-Bau. It is in a green area surrounded by jungle and plantations, a farmland away from the bustling urban city. Life here is peaceful and quiet.
Nevertheless, with much preserved greenness is what most city folks would like to visit, making this a good choice for family outings. The main motto of this farm is "let nature be our teacher, and the universe be our classroom" is clearly written on the doorway of the farm.
Another nature awareness signage can be seen just across the lake in the farm. "Protect the environment, Protect the ecosystem, Protect the nature, all this is to protect ourselves". It brought out the importance of us – as humans – to protect the natural environment around us, as we too depends on them for survival.
The Borneo Happy Farm is a prime location even for schools, companies and organizations to organize their day trip. In the early morning, cars and buses fill up the parking area and lobby is packed with people. It is advise to reach there early or slightly late in the morning to avoid being trapped in sea of people. Late comers may have advantage of lesser crowd, but will have most time under hot sun.
Basic things to bring :
Light and comfortable clothing. There will be allot of walking around the park.
Don't forget to drink ample amount of water (do take note on their no outside food and drinks policy).
Don't forget sun blocks and mosquito repellent. You don't want your journey ruin with sun burns and mosquito bites.
Umbrellas and portable hand fans is a added advantage.
Bring along your camera and capture the moment.
Don't forget to bring along your USB power packs. There is no charging ports in the farm and the forest.
If you plan for jungle trekking at the Tropical Rainforest Trail, don't forget to wear trekking shoes, as the path is natural terrain of mud and soil.
There are shaded corridors and paved walking path connecting all major attraction of the park.
After getting your entrance ticket and waiting for admission into the farm, do stop by and read the safety instruction at the main lobby. These long non exhaustive conditions of entry is for the environment cleanliness, safety of people and animals, and to ensure that you can have a relaxing and enjoyable journey in the farm.
You will also be brief on the safety rules in the park by the warden of the farm at the lobby before entry.
It is important to know that all attractions is subject to change from time to time. No refund due to unavailability of attractions or inclement weather conditions. The most important is to get what's most from what is available and have fun.
Asian Arowana
The first attraction is the lake beside the lobby. It may look ordinary, but it is where expensive fishes – Asian Arowana – breed and prosper. The lake is partly covered by water lily pads and a perfect natural environment for fishes.
There are several lakes in the farm that host different type of Arowana species – namely Silver Arowana, Red Arowana and Green Arowana.
The Arowana Feeding time is 9.30am and 2.30pm. Don't miss the opportunity to see how these Arowanas being fed.
Bunny's Farm
Subsequent attraction is the Bunny's Farm or the Bunny House. Kids will sure love this place as visitors are allowed to interact with these adorable furry creature in the pen. Visitors can try to feed the rabbits with the pet food provided.
The Bunny's Farm opens daily from 9.30-5pm.
Animal Photo Session
There will be several animals been brought out for Animal Photo Session. Don't miss the opportunity to take photos with these animals close up.
The session is open daily from 9.30-5pm. There is no extra charges on photo taking with your cameras.
Longevity Village
The Longevity Village is the following attraction. Tortoise is known to lived very long and that is why the tortoise house is called Longevity Village. Meet different types of tortoise here and understand their stories.
The feeding time for the tortoise is 3.30pm.
Savanna
Next attraction is the Savanna. It is a hilly grassland with goats, sheep, horses and dairy cows.  There is detailed description about these animals along the path.
The Savanna opens daily from 9.30am-5pm.
Don't forget to witness  the Bornean Ironwood tree (Belian) and the Tapang Tree at the Savanna. The Tapang tree is the tallest and the oldest tree in the farm.
These two trees are protected trees species in Sarawak. Due to extensive logging of these precious woods, the Bornean Ironwood (Eusideroxylon zwageri) is classify as threaten tree species in Borneo. The Tapang Tree (Koompassia excelsa) is protected under Sarawak's Wildlife Protection Bill of 1990.
Dino Dino and Chinese Zodiac
Dino Dino is a place where visitors can take photos with some of the colorful statues in the farm. Some of these dinosaurs represent some of the familiar species like Brachiosaurus, T-rex and Stegosaurus.
But the way, dinosaurs literally means ugly lizards (reptiles). They do look like lizards, but pretty though.
Besides dinosaurs from the olden era, there are also large collection of statues of animals of current world around the farm. Don't forget to take photos with all these animal themed garden ornaments.
Further down the garden, there are also a set of statue showing all 12 animals of the Chinese Zodiac. All these statue surrounding the tree in a complete cycle like how the Chinese lunar year being rotates around the 12 Chinese zodiacs from year of the rat to year of the pig.
Other than having photograph with the statues, visitors can try out their workout and challenge at the various obstacle courses around the farm.
After visiting the statue gardens, you can have an option to go for jungle trekking at the tropical rainforest trail or move on to the next attraction. The tropical rainforest trail is full of different kinds of tropical plants and wildlife.
Padi Village
The Padi Village is the next attraction in the farm. Meet the scarecrows and vast open land of padi plantation. If the season is right, you may get nice scenery of ripe padi field.
Farmer's Paradise
Farmer's Paradise is a farm area with collection of various plantations and fruit trees. Meet all the local fruit trees at the farm. If the season is right, you may see fruit bearing trees around the farm. Obviously do not pluck or take the fruits.
Tropical Farm Cafe, Food and Handicraft Gallery
Tropical Farm Cafe is a place where you can sit down and relax after a long day of walking in the farm. You can purchase various local dishes, drinks and refreshments here at a affordable price. Along the dining hall at the cafe there is a wall full of pictures and newspaper cutting with stories about the farm.
Other than enjoying food and drinks, there is a attraction besides the cafe – Food and Handicraft Gallery. We will like to called it a mini cultural museum at the farm, showcase various traditional farm tools and musical instruments, various classical kitchen and ding utensils, and cultural artifacts from various races of Sarawak. Don't miss the opportunity to travel back in time and understand what all these items are used for.
Opposite the Tropical Farm Cafe is a Traditional Chinese Farm House which showcase various classical household items that are very hard to meet nowadays.
Ending of the Trip
After the Farm House we continue our remaining of the trip back to the main lobby. Along the route there is also various minor attraction to stop by. The fruit hall and the Souvenir Center is along the way back.
We do encounter various poultry along our way back. Chicken, Ducks and Geese are let free roaming around the farm without cages. You can see how the youngs follow their mother in orderly manner and not getting lost.
We found out our trip to be both educational and interactive. Don't forget to bring your family and friends to this farm.