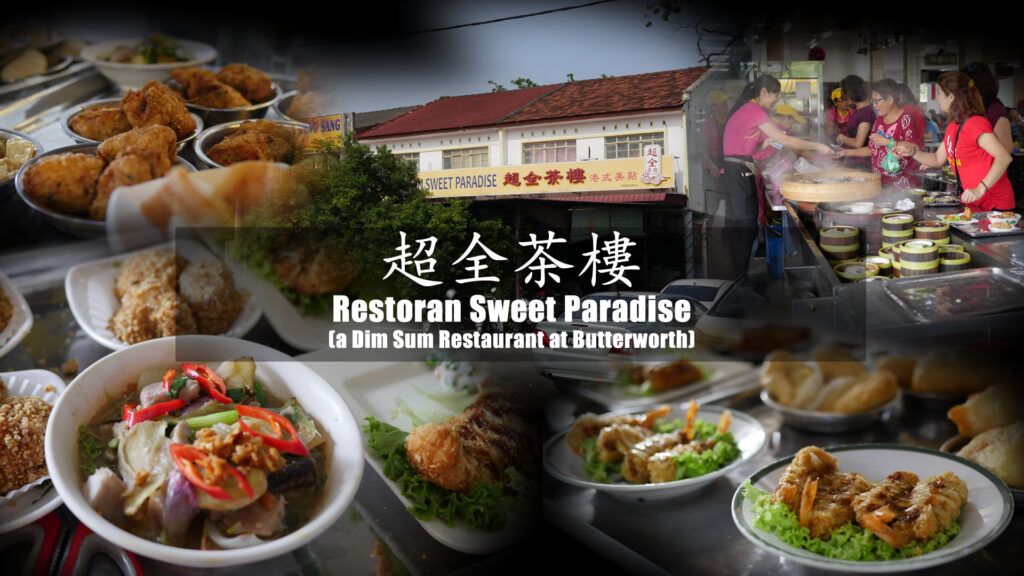 Name: Restauran Sweet Paradise , Chew Chuen Dim Sum
Name in Chinese : 超全茶樓
Type : Chinese Dim Sum Restaurant (Hong Kong Style)
Famous Foods : Shrimp Dumpling, Steam Fish Head with Rice Vermicelli, Steamed Osyter Dim Sum, Dim Sum, Fried Dim Sum, Steamed Dim Sum, Fish Ball, Egg Tart, Prawn and Mushroom, Siu Long Pau, 3in1 Filling Dim Sum, Gyoza, Chicken Feet, Lotus Rice
Opening Hours : Daily 6 AM till 1 PM
Tel : 04-323 8496
Location : 2. 4, Jalan Bagan Baru 1, Kampung Jawa, 12000 Butterworth, Pulau Pinang
Latitude : 5.406086878329591
Longitude : 100.37200997361072
Open map with : [Waze] [Google Map] [Bing Map] [HERE Map]
How you can reach here ?
If you are using Butterworth Kulim Highway, drive forward in the direction of butterworth. After passing the Sungai Nyior toll plaza, you will reach a traffic light junction. From there proceed to Jalan Heng Choon Tian till you see the Butterworth Police Station. Before the Butterworth Police Station, turn into a road junction on your Left name Jalan Bagan Baru 1 and the Restaurant is located on your Right. The parking can be found on your Left (opposite the Restaurant) or you can park at the nearby market.
There are many other alternative route available, you might consider GPS for better guidance to this restaurant if you are new to the area.
Below is a video taken by us during our trip to this restaurant.
Talking about best place for Chinese Dessert (or commonly called as Dim Sum) at Butterworth, you will end up having your treat here at Restauran Sweet Paradise. This is the first shop established in the early years with initially occupy one shop lot and now expanded to two shop lots with branch available  at Jalan Ong Yi How.
This restaurant is a traditional Dim Sum shop in Butterworth, serving the local population for decades. Nevertheless it is a best place for Chinese folks to hang out and have a tea.
The Chinese Dessert served here is mainly Hong Kong Dim Sum preparation. Hong Kong is famous for its assortments of Dim Sum and there even have specialty store for Dim Sum alone. The preparation of Dim Sum itself is an art.
A dim sum dish is usually simple and yet attractive. Each dessert is served either in a small plate, a small bowl or a traditional steam cage. The arrangement of the dessert in a way that it portray its image of main ingredient. It is served steamy hot from the steamer or the heater oven.
To ensure all the dim sum is served fresh, all the ingredient and preparation is made on the spot and same day.
Many people will queue up for dish of fresh hot dim sum. If you come during weekends and holidays, you might find it hard to find a table to sit.
Usually the staff will bring fresh dim sum around the shop for you to choose by the table, but most of the time people will prefer to self service to get their fresh hot dim sum from the preparation counter. Be careful when approaching these steamy areas as these fresh hot dim sum is really hot and you might be scaled from the hot steam if not careful.
Obviously not all dim sum is served in a steaming hot. There are section for dry dim sum where it is placed in a heated up cabinet.
Remember to bring your family and friends to this restaurant for a Chinese Dessert treat. You will not regret it. It is fresh and tasty.