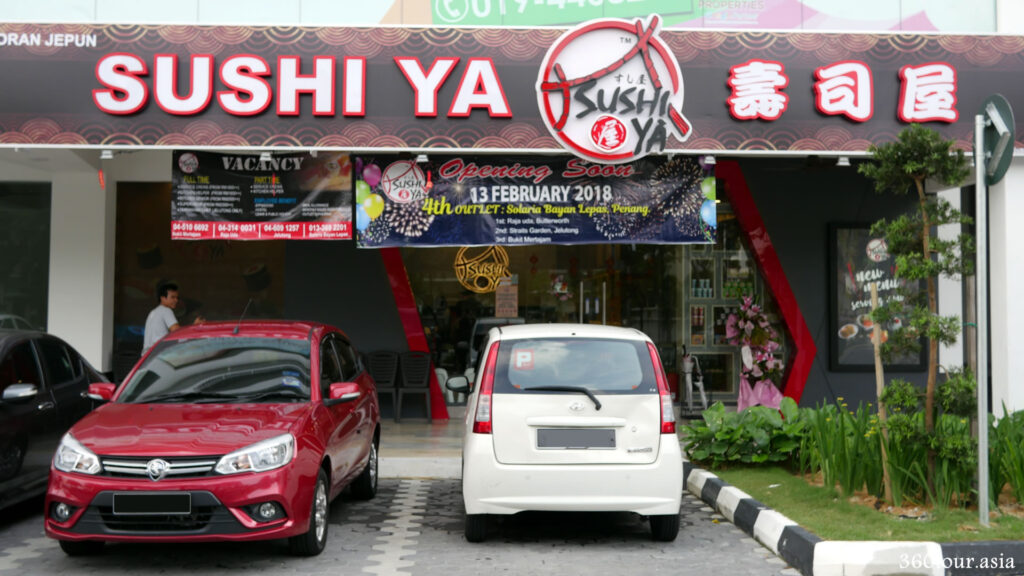 Name : Sushi Ya 寿司屋
Type : Japanese Cuisine / Restaurant
Serves : Shashimi, Sushi, Sarada, Maki, Temaki, Agemono, Tempura, Yakimono, Donburi, Noodles, Okayu, Bibimbap, Nabemono, Gunkan, Makimono, Beverages.
Payments : Cash (MYR) , Debit Card, Credit Card, Visa, Master Card, JCB, Union Pay, MyDebit
Operating Hours : Daily 11:30AM – 10PM
Contact : 04-293 0815
Facebook (Main) : https://www.facebook.com/sushiyamalaysia/
Facebook (Solaria Bayan Lepas) : https://www.facebook.com/Sushi-YA-%E5%AF%BF%E5%8F%B8%E5%B1%8B-Bayan-Lepas-149182542471176/
Address : G-16 Solaria, Medan Rajawali, Kampung Perlis, 11900 Bayan Lepas, Pulau Pinang
Latitude : 5.300730166064177
Longitude : 100.26580326613157
Open map with : [Waze] [Google Map] [Bing Map] [HERE Map]
Do you know that Sushi YA has also three more outlets around Penang before opening of this branch ?
Raja Uda, Butterworth | Penang
188, Jalan Raja Uda, Pusat Perniagaan Raja Uda, 12300 Butterworth, Penang
Tel: 04-31 400 31
Waze:https://waze.to/lr/hw0zqu4zxw
Straits Garden, Jelutong | Penang
349-01-09, Jalan Jelutong, 11600 Jelutong, Penang
Tel: 04-609 1257
Waze:https://waze.to/lr/hw0zqdy0vb
Jalan Song Ban Kheng, Bukit Mertajam | Penang
29, Jalan Perniagaan Gemilang 1, Pusat Perniagaan Gemilang, 14000 Bukit Mertajam, Penang
Tel: 04-510 6692
Solaria Square is a new high density property in Bayan Lepas Penang which comprise of Solaria Residences above and Solaria Square below. Solaria Residences is a free hold condominium of 25 floors and 399 units at Jalan Tun Dr. Awang. Solaria Square is a commercial lot with 20 double storey shops. This is a great location for investments as several amenities including shop lots, malls, restaurants, clinics, banks, mosques and petrol stations are all near by, with nearby road connection to Penang Second Bridge, Penang International Airport and the Free Trade Zones.
Apart being a hotspot for investments, Notable restaurant at Solaria Square are Sushi YA and Starbucks Drive through.
Introducing Sushi YA at Solaria Square Bayan Lepas, which is their 4th Sushi YA outlet established in northern Malaysia. This outlet is recently launched its grand opening on 13th February 2018.
Sushi YA is known for its affordable and delicious sushi dishes. They offer more than 200 types of various Japanese and sushi dishes in their menu, with special combinations and promotions during festive seasons.
The shop is clean and decorated minimalist with essence of Japanese. The theme is wood and concrete, with a sushi bar conveyor belt to supply unlimited sushi dishes throughout the restaurant.
The color coding of the sushi on the sushi belt is simplify into two main color, the pinkish plate (RM 1.90) or the red plate (RM 2.90). The price is affordable for most people. Various types of common nigiri sushi, gunkan, chinmi, makimono and dessert are served via the sushi conveyor belt. Once you had your seat ready, all you need to do is to grab a plate of sushi and enjoy your meal.
However with appetite for more premium japanese sushi dishes, do look into their menu and order via the waiter.
Click below for the Menu they offer. Subject to changes.
Sushi YA is still expanding their branches around northern Malaysia. The next branch will be at Sungai Petani, Kedah. Stay tuned for more updates at their Facebook page.
Do visit in one of Sushi YA restaurant if you have a chance to drop by. It is affordable and sure is a good news for Sushi lovers.