The Mouse deer and the crocodile is a famous local tales about how the clever mouse deer tricked the crocodiles in bringing him across a river. The whole story is carved on the wall near the famous Darul Hana bridge at Kuching Waterfront.
Type of sculpture: Cement Wall Sculpture and Carvings.
Title : The Mouse deer and the Crocodile
Location: Kuching Waterfront, Nearby Darul Hana Bridge. The long wall curved around the Public Toilet of Kuching Waterfront beside the Bus Stop of Jalan Gambir.
Latitude: 1.5604825447172928
Longitude: 110.34494161605836
The Wall sculpture consisted of four short image sculpture and one long image sculpture. The story is read from left to right. It is one of the famous place for visitors to take photos with the amazing wall sculpture.
There are many animals featured in the wall sculpture, including the mouse deer, crocodile, hornbills, python, monkey, tortoise, squirrel, orangutans, porcupine, otter, birds, pangolin. All these are wildlife that can be found locally in Sarawak rainforest. It is also a wall sculpture that showcase the vast biodiversity of Sarawak rainforest.
The story of the mousedeer and the crocodile
On the Sculpture: How the Mouse Deer tricked the crocodile. The Mouse Deer wanted to cross the crocodile infested river. He flattered the crocodiles by referring to their size and strength. "However", he said, "My family's bigger than yours, our strength is in our numbers".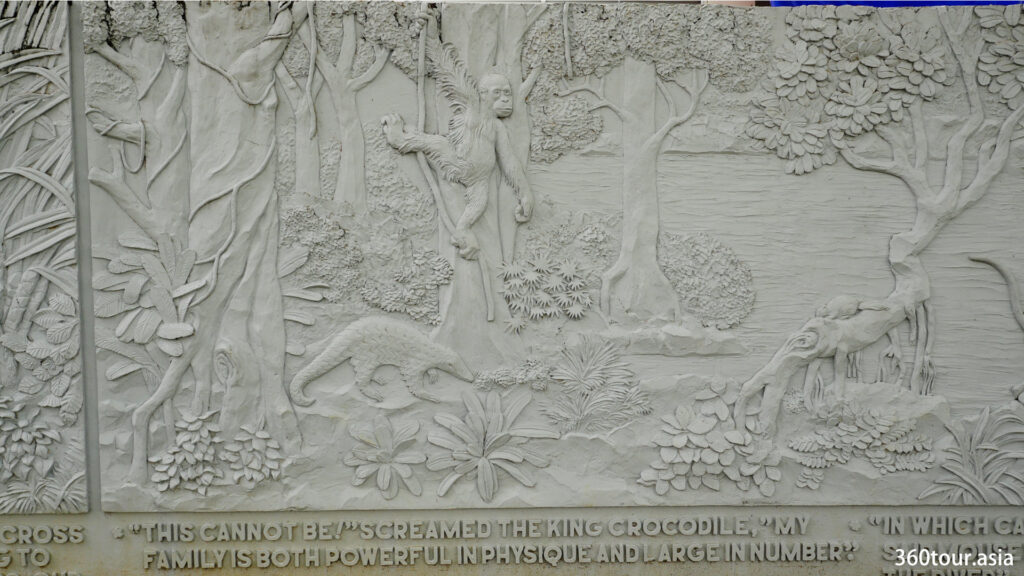 On the Sculpture: "This cannot be !" screamed the King Crocodile. "My family is both powerful in physique and large in number".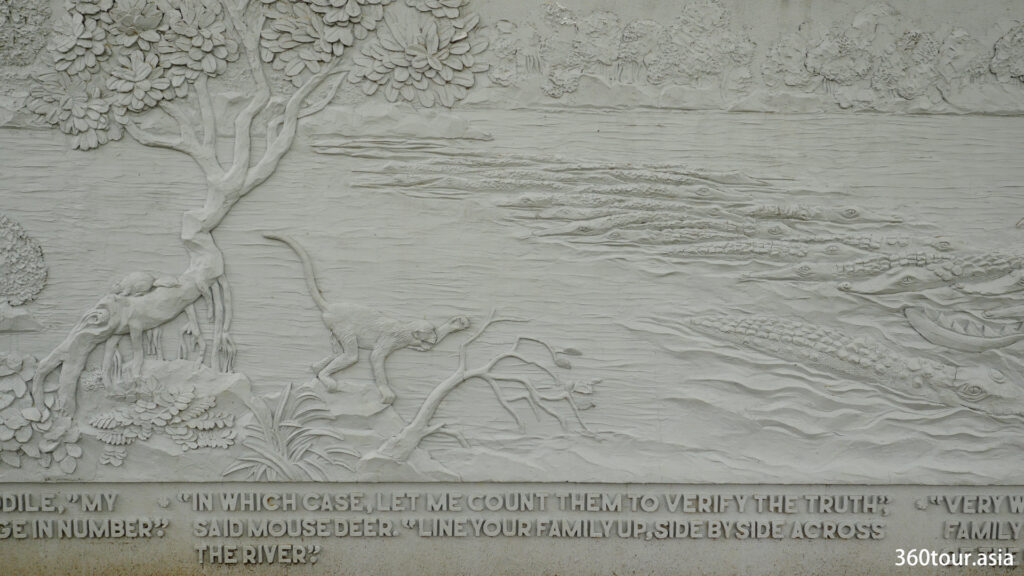 On the Sculpture: "In which case, let me count them to verify the truth", said mouse deer. "Line your family up, side by side across the river".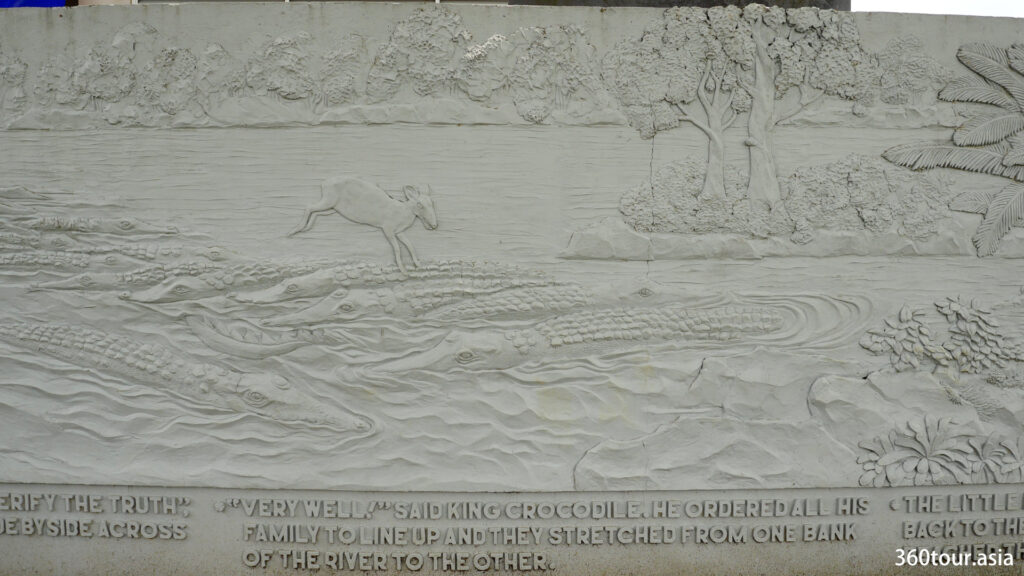 On the Sculpture: "Very well!" said King Crocodiles. He ordered all his family to line up and they stretched from one bank of the river to the other.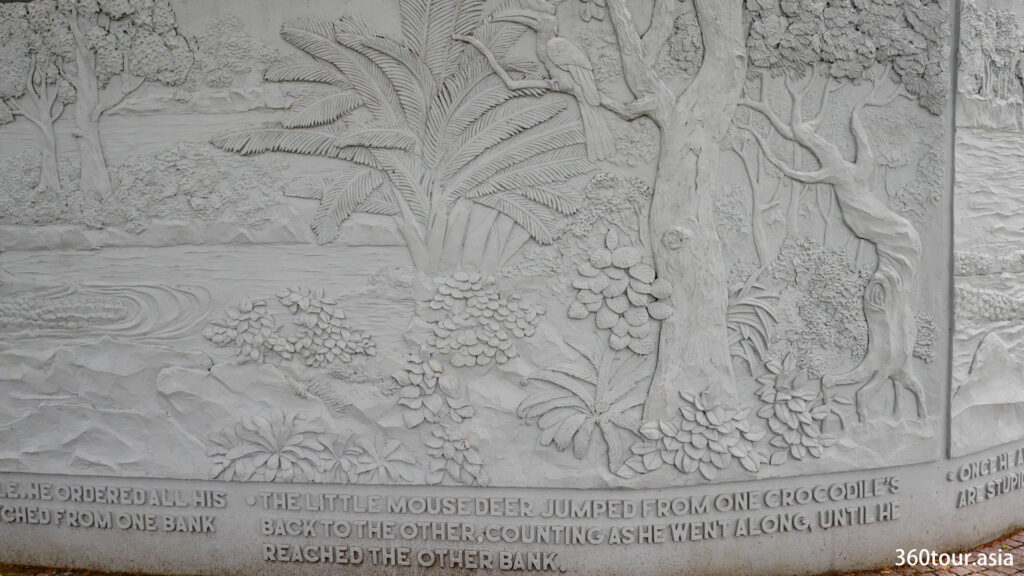 On the Sculpture: The little mouse deer jumped from one crocodile's back to the other, counting as he went along, until he reached the other bank.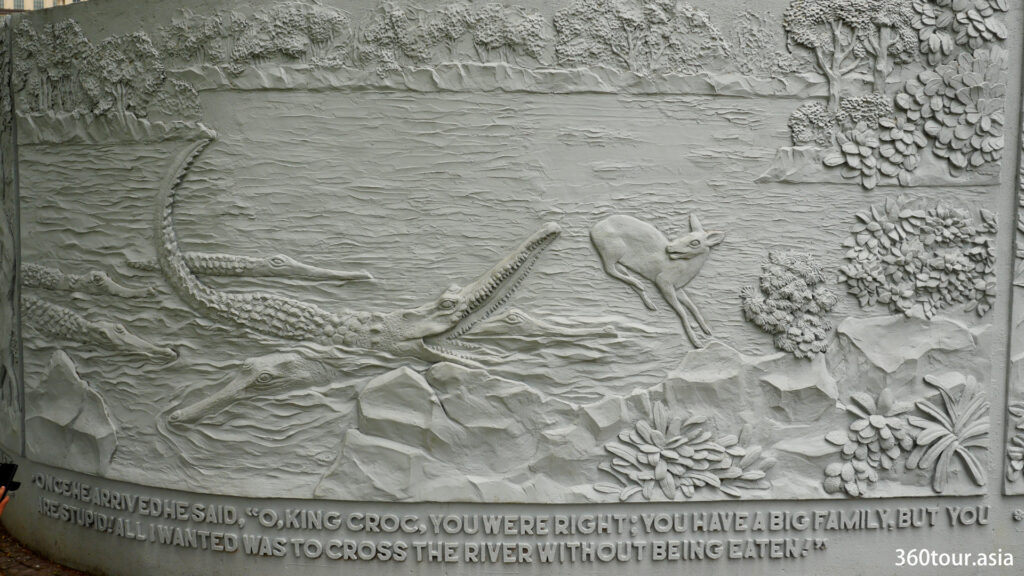 On the Sculpture: Once he arrived he said, "O, King Croc, you were right; you have a big family, but you are stupid! All i wanted was to cross the river without being eaten !"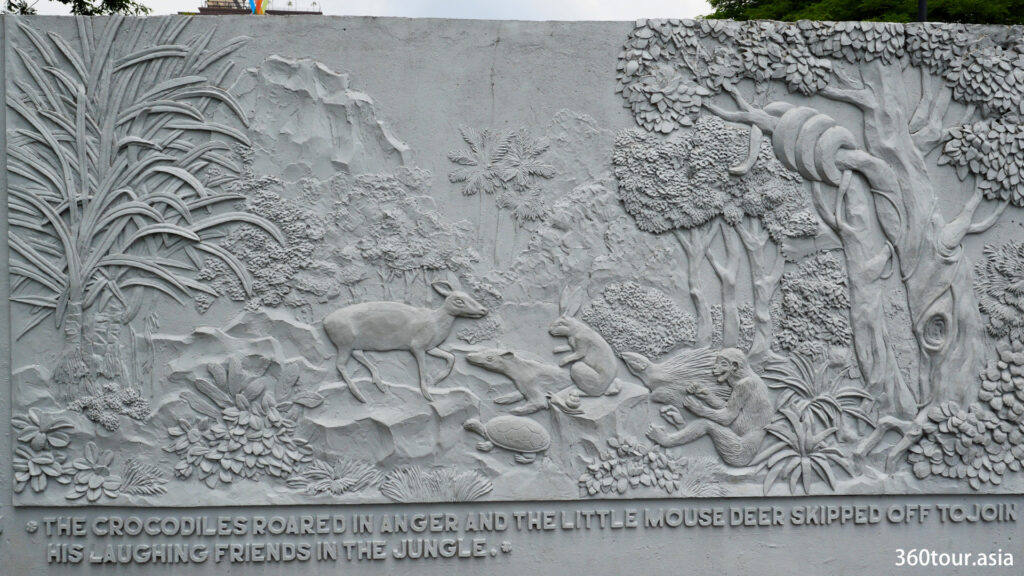 On the Sculpture: The crocodile roared in anger and the little mouse deer skipped off to join his laughing friends in the jungle.