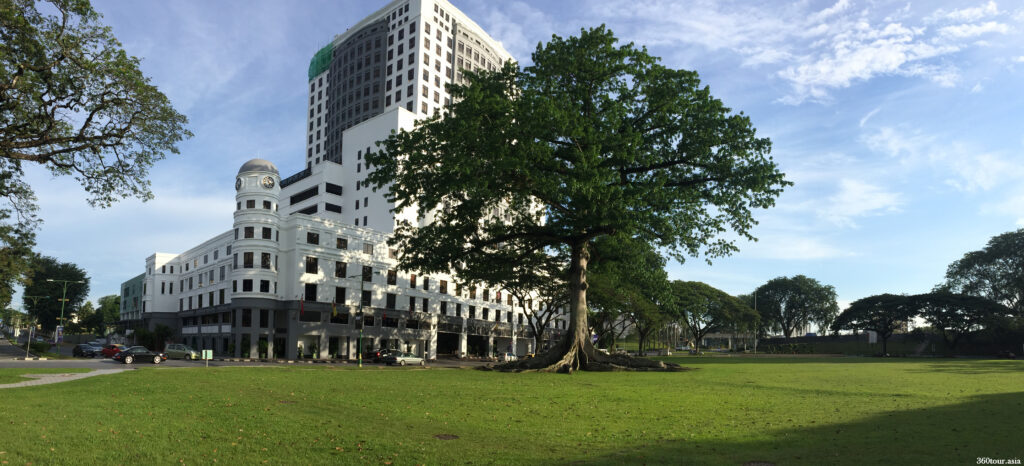 Scientific Name: Ceiba Pentandra
Common Name: Kapok Tree, Kabu-Kabu, Kekabu, Silk-Cotton Tree
Location: Center of Merdeka Square Kuching, Right in front of Merdeka Palace Hotel and Plaza Merdeka.
Latitude : 1.556708030872515
Longitude : 110.34371681534424
Open map with : [Waze] [Google Map] [Bing Map] [HERE Map]
This 90 feet high Silk-Cotton Tree is listed under the heritage tree of Kuching by the Sarawak Government, with age near 100 years old and dates back to the reign of the Brooke family in Sarawak in 1840s. It is a famous for its massive size, huge roots buttresses complex, and snow like cotton that covers the whole field during its blossom (every 2-3 years).
Descriptions on the Inscription Plate
A deciduous and thorny tree reaching 90 feet high; trunk wide and stout near the ground, with buttresses; leaves crowded at the ends of the twigs; flowers small, dirty white with a milky smell fruits ablong, hanging in bunches, green then brown to blackish when ripe; seeds brown (corner, 1988).
Native of tropical America, cultivated in Asia and a common village-tree in Malaysia. This well-known tree is grown for the wool or kapok, obtained from the fruits. It is used for stuffing cushions, pillows, mattresses and life-jackets.
Easily propagated by sticking branches into the ground. The young fruits can be eaten, leaves and roots are medicinal and a food-cake for cattle. The tree normally sheds its leaves in the dry season.
This kapok tree growing in Padang Merdeka is listed under the heritage tree of Kuching, estimated age to be about 80 years old and its worth RM1,092,436.20 as valuated in year 2008.
Some Thoughts
This Silk-Cotton tree is a real landmark, a center attraction of the Merdeka Square (Padang Merdeka in Local Malay, or previously known as the center field in the Brooke Era). The Merdeka Square is a rectangular shaped wide open field, surrounded by trees, road and pavements. Many events, fairs and expos held in this square. The square is surrounded by many other landmarks features classical British architecture Police station and Post Office, famous luxury Merdeka Palace Hotel, Modern Plaza Merdeka shopping mall, Tourist information center, nearby Sarawak Museum complex.
A ring of tall tropical trees with majestic roots surrounds this square, with the prominent and most outstanding "mother tree" – The Silk-Cotton tree, standing in front of the Merdeka Palace Hotel. Tourist who pass by this square will never miss majestic tree as it is the only tree with tall strong single trunk that only gives out branches at the corresponding 4th floor height, and a massive root buttress complex as tall as a standard height man, with a diameters that can fit almost length of 8 cars. Occasionally some may notice the protruding root masses across the field to the other side which originate from this tree.
A estimate of 90 feet tall, which corresponds to 9 storey tall building with standard 10 feet (3 meters) each storey. Standing below this tree will makes you feels insignificant in comparison. It is a breathtaking view, and many tourist would had their selfies or wefies with this tree. Occasionally also noted people taking pre-wedding photography below this tree to capture this majestic tree.
Having a pre-wedding photoshoot here will make this tree as a witness to your love life as this heritage tree can live hundreds of years, and you can share your own love stories with your coming generations. For some, this tree signify longevity as many locals had been seeing this tree since they are young and grow along with it. Not to forget that hanging out below this tree is cool and refreshing as the massive canopies of the tree shades out hot sunlight and release refreshing dose of fresh oxygenated air.
For tree huggers and nature lovers, this is not to be miss this wonder of nature. This tree is home to many different birds and bugs. Every 2-3 years, this tree might blossom into a tree of milky white cotton tree with cottons fell down from the tree like felling snows. It usually blossom in autumn seasons, and usually shade its leaves during dry seasons. It appears a thick bush of dark green leaves during rainy season.
At night, artificial colored lights illuminates this tree and roots, making a breathtaking scene when taken with long exposure.
It might be also a good spot for Pokemon Go hunters as the "Merdeka Palace Hotel and Suites Water Feature Stone Engraving" Pokestop is just nearby.
The Blossoms of the Silk-Cotton Tree
It blossoms every 2-3years, and it is a major attractions as the cotton may fall like snow fall during a windy weather. Many came to spectate such amazing natural phenomena, and more came to collect the cotton for souvenirs or for using to make stuff animals or pillows. Children running around the tree to catch the cotton falls, and visitors holding camera for selfies with the majestic tree.
Below is a video taken during the blossom 20-25 july 2017.