The Joint Christmas Service and Parade Sri Aman 2016
Theme: God's Everlasting Love
In Chinese: 永恒的爱 (pinyin: yǒng héng de ài)
In Iban: Pengerindu Meruan Belama-lama
Location: Sri Aman Sarawak, Malaysia
Service Location: MDSA Mini Stadium Sri Aman.
Date: 10th December 2016
Time: 6.30pm – 9pm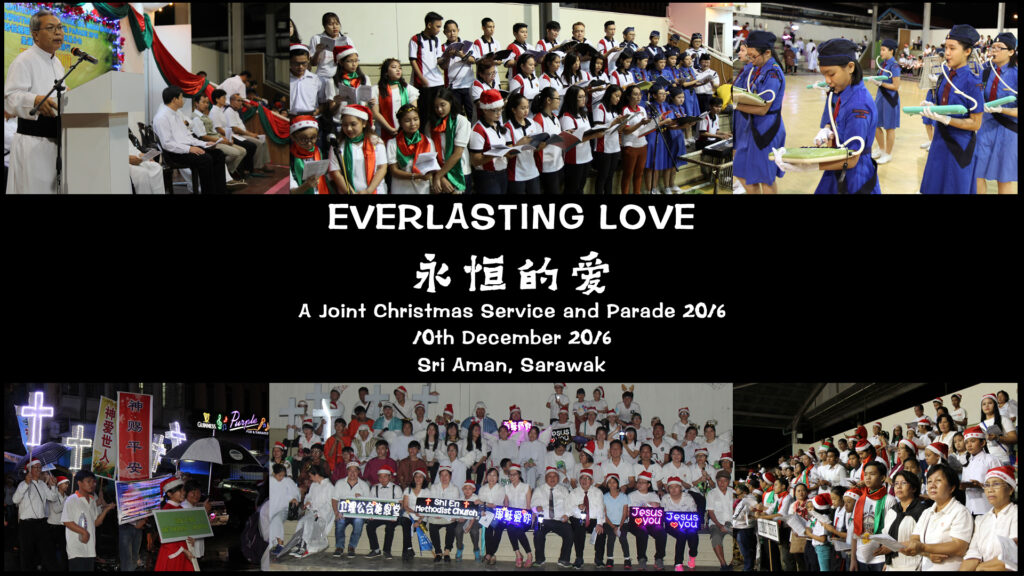 Organized by: Association of Churches in Sarawak, Sri Aman Branch
Joint Churches:
Shi En Methodist Church
Sing Eng Methodist Church
St. Luke's Anglican Church
Our Lady Queen of Peace Roman Catholic Church
Sidang Injil Borneo (SIB)
Seventh Day Adventist (SDA)
---
Introduction
The Joint Christmas Service and Parade Sri Aman is a yearly Joint Church Service event join by all Churches under the Association of Churches in Sarawak (ACS), Sri Aman Branch. Brothers and Sisters in Christ stays united and harmony under the same roof.
'Behold, I bring you good tidings of great joy which shall be to all people: For unto you is born in the city of David, a Saviour, which is Christ the Lord." Luke 2:10-11
The event started with a warm welcome speech by the Master of Ceremony, Welcome to this year's joint Christ Service and Parade. We thank God Almighty that through His grace, the churches under the ACS Sri Aman, are able to once again organise this yearly event.
It is indeed a blessing that we have come together tonight in the presence of God Almighty, united in faith and love, to remember, celebrate and spread the Good News of the holy nativity of our Lord, to have fellowship with fellow Christians from different churches and denominations, and most of all, to offer our praise, worship and thanksgiving to our Saviour and Redeemer, Jesus Christ.
The theme for this year's joint Christmas Service is "God's Everlasting Love". As it written in the Gospel of John, Chapter 3 verse 16, "For God so loved the world, that He gave His one and only Son, that whoever believes in Him, shall not perish but have eternal life." Let us rejoice in the Knowledge in the promise of God's unfailing and eternal love for all mankind, we have salvation through His Son, Jesus Christ.
The Joint Service was fluently packed with singing of Hymn and praise, and reading of scripture by various representative and pastors of various churches.
Subsequently the event was proceed with the Christmas Parade, symbolizing the spreading of the Gospel to the community. The Parade was lead by the Methodist Boy's and Girl's Brigade Brass band team, then followed by the pastors and contingent members of various churches. The parade started from the MDSA Mini Stadium, along the downtown of Sri Aman towards the Twin Pigeon Landmark Roundabout , then continue along the new extension township of Sri Aman, before return back to the stadium via alternate route along the downtown streets.
The Parade ends successfully, despite the raining and wet roads, everyone happily complete the parade, holding LED lit Cross and Colorful umbrellas, wearing white shirt or Christmas costumes.
The event finally ends at 9pm sharp with a song "We wish you a merry Christmas and a Happy new year."
The Event Video
This is a 20 minutes essential video of the Joint Christmas Service and Parade 2016 event. Hope you enjoy it.

Please stay tuned for more photos at the following page.