Tom's Too Restaurant
Cosy Restaurant/Cafe specializes in Cakes/Desserts and Western/Fusion Food.
Address: Delta Mall UG14-17, Sibu, Sarawak
Opening Hour: Daily 11.30AM-9.00PM (8.30PM Last Order)
Kitchen Closed: Monday-Friday 4.00PM – 6.00PM (Except for Public Holiday)
Managed by: Delta F&B Sdn Bhd
UG 14-17, Ground Floor, Delta Mall, Jalan Pedada, 96000 Sibu, Sarawak, East Malaysia.
Tel: +60 84 322 301/302
Mobile: +60 17 808 5133
Booking: Please call +6084 322 301 or +60128822259 for booking to avoid any disappointment.
Facebook: www.facebook.com/tomstoodelta
E-mail: [email protected]
Operation: Opened on 1 April 2011
Famous for our mouth watering Desserts like Marble Cheese Cake, New York Cheese Cake, Apple Raisin Cheese Cake, Cappuccino Cheese Cake, various other cakes like Coco Napoleon Mousse Cake, Double Chocolate Mousse Cake, Napoleon Coffee Sponge Cake and desserts like Apple Crumble with Ice Cream, Carrot Cake, Delta Freeze, Tom's Freeze, Cendol Delight, Chocolate Parfait and many others.
Signature dishes namely: Lamb Shank, Rib Eye Steak, Lasagne, Spaghetti Carbonara, Beef Burger, Teriyaki Chicken, Stewed Beef Spagettini, Spicy Egg Plant Spagettini, Lemon Grass Chicken, Club Panini, Chicken Pie, Teriyaki Chicken Wings, just to name a few.
Come and dine with us for a whole new eating experience.
The environment is warm and cozy, with warm yellow lighting and elevating musics. The restaurant is also fully air conditioned, with various cubicle partitions that allows some privacy for fine dining. Furthermore there are various style of tables and chair to choose from to suit your taste, from minimalist to classics.
The main counter is also well decorated with glassware and ornaments.
During our visits we try out some of the recommended dishes. The serving speed is decent and the food portion was adequate. Taste great with nice environment to match with. Dressing are of generous portion, and creative.
The Menu of Tom's Too Restaurant at Delta Mall. There is many to offer, ranging from oriental to western, juices to beer.
---
All-time Favourite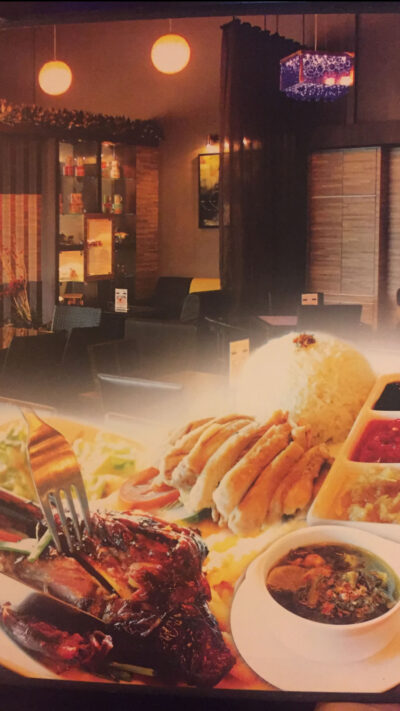 Rib Eye Steak (NZ)
Premium rib eye steak grilled with Haco Classic Demi Glace
Served with crinkle cut fries and vegetables/salad
Lamb Shank
Juicy and tender lamb shank baked with honey sauce
Served with crinkle cut fries and vegetables/salad
Premium Chicken Rice
Tender boneless chicken thigh with fragrance steamed rice
Served with salted vegetable soup
Special Fried Rice
Three coloured egg fried rice accompanied with lady's finger and chicken chop
3 in 1 Sweet & Sour Rice
Mixture of fish, chicken and pork in sweet and sour sauce
Garlic Bread
Club Panini
Macaroni Cheese
---
Mushroom Soup
Chicken Sweet Corn Soup
Thick Tofu Soup
Caesar Salad
Chicken Caesar Salad
Garlic Bread
Fish Fritters
Potato Wedges
Teriyaki Chicken Wings
Chicken Pie
Chicken Tenders
Chicken Nuggets
---
Rib Eye Steak (NZ)
Premium rib eye steak grilled with Haco Classic Demi Glace
Served with crinkle cut fries and vegetables/salad
Lamb Shank
Juicy and tender lamb shank baked with honey sauce
Served with crinkle cut fries and vegetables/salad
Chicken Cordon Bleu
Chicken breast stuffed with ham and melted cheese accompanied by cream soup base
Served with crinkle cut fries and vegetables/salad
Fish and Chip
Deep fired crispy fish fillet Served with crinkle cut fries and vegetables/salad
Accompanied with Tartar Sauce
Chicken Chop
Freshly grilled boneless chicken thigh accompanied with cream soup base
Served with French fries and potato salad
---
Lasagne
Spaghetti Carbonara
Stewed Beef Spaghetti
Macaroni Cheese
Spaghetti Bolognaise
Carbonara with Bacon & Button Mushroom
Spicy Egg Plant Spaghetti
---
Special Fried Rice
Three coloured egg fried rice accompanied with lady's finger and chicken chop
3 in 1 Sweet & Sour Rice
Mixture of fish, chicken and pork in sweet and sour sauce
Sweet & Sour Fish/ Chicken/ Pork Rice
Lemon Grass Chicken Rice
Teriyaki Chicken/ Fish Rice
Buttered Oat Chicken Rice
Jing Du Pork Rice
Gong Bao Chicken Rice
Turkey Ham Fried Rice
Mixed Vegetable Rice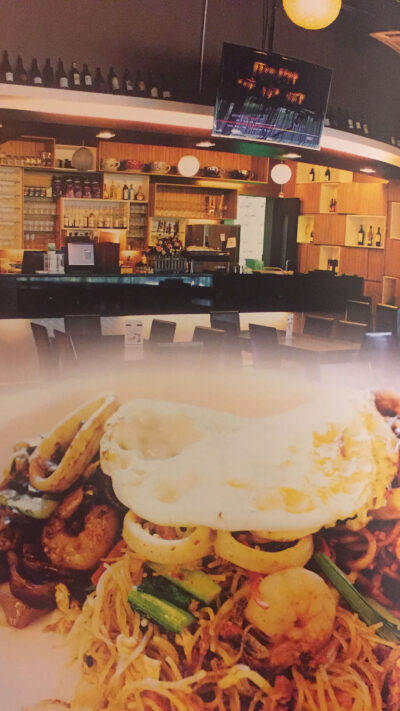 Foochow Fried Noodle
Local Style Fried Noodles/ Kueh Teow
Fried Noodles/ Kueh Teow (With Sambal)
Fried Kueh Teow/ Mee Hoon (Singapore Style)
Seafood Fried Noodles/ Kueh Teow/ Mee Hoon
---
Club Sandwich
Turkey Ham & Cheese Panini
Chicken & Cheese Panini
Club Panini
Chicken/ Fish Burger
---
Tom's Freeze
Delta Freeze
Milkshake (Flavors of Vanilla, Chocolate, Strawberry, Oreo or Coffee)
Iced White Coffee
Passion Fruit Italian Soda
Ice Lemon Tea
Vanilla Latte
Cincau with Milk
Ribena Sprite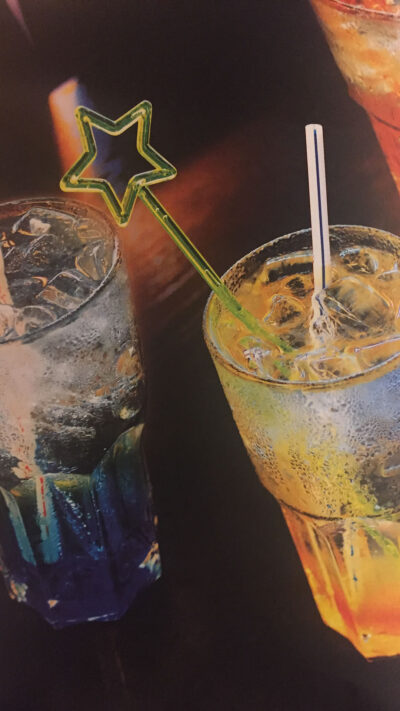 Italian Sodas
Passion Fruit
Peach
Green Apple
Green Mint
Lychee
Raspberry
Blackberry
Strawberry
Yellow Banana
Lavender
Mango
Vanilla
Rose
Hazelnut
Caramel
Irish
Elder Flower
Blue Lagoon
Lemon
Grenadine
Tea
English Breakfast
Earl Grey
Lemon
Green Tea Natural
Lychee
White Tea
Assam
Ceylon
Jasmine
Bu Er
Tia Kwan Yin
Japanese Green Tea
Pure Peppermint
Pure Chamomile Flower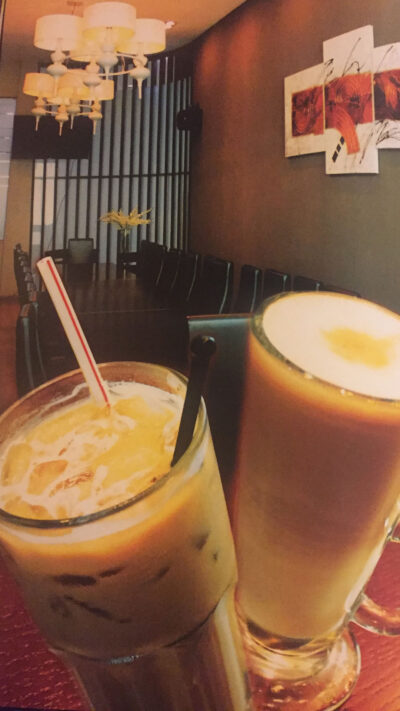 Iced Drinks
Coffee
White Coffee
Cappucino
Mocha
Latte
Lemon Tea
Fresh Milk
Milo
Chocolate
Ice Blended Drinks
Coffee
White Coffee
Cappucino
Mocha
Latte
Chocolate
Tom's Freeze
Delta Freeze
Hot Drinks
Coffee
White Coffee
Cappucino
Espresso
Double Espresso
Mocha
Latte
Caramel Latte
Vanilla Latte
Hazelnut Latte
Irish Cream Latte
Milk
Milo
Horlick
Chocolate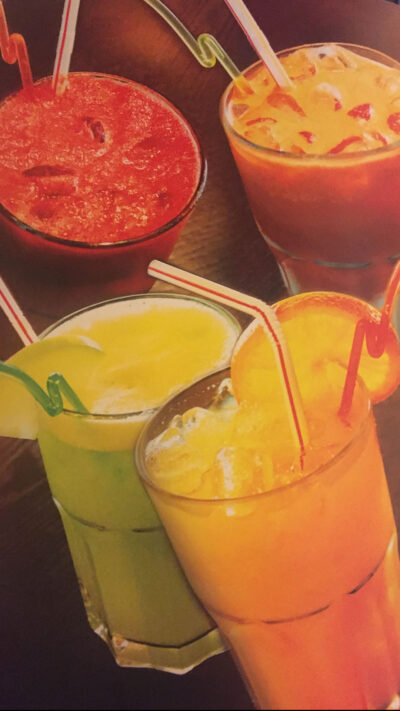 Fresh Juice
Lime
Watermelon
Apple
Orange
Carrot with Milk
Mixed Fruits (any 2)
Bottle Water
Mineral Water
San Pellegrino Sparkling Water
Carbonated Drink
Coke
Vanilla Coke
Sprite
100plus
Non-Carbonated
Ribena
Jasmine Green Tea
Soya Bean Milk
Chrysanthemum Tea
Cincau
Winter Melon Tea
Coconut Juice
Soursop
Sugar Cane
White Grape
Soda Water
---
Carlsberg
Guinness Stout
Tiger Beer
Heineken