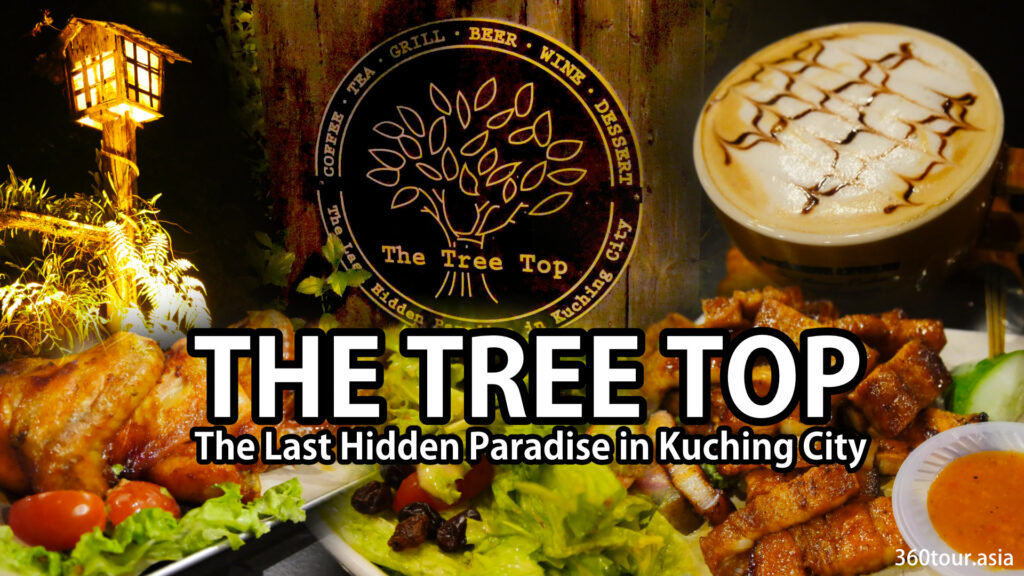 Sarawakians don't stay on trees any more, but the tree top cafe will still amaze you. It is a Rainforest Themed restaurant that is located on top of the hill and surrounded by rainforest. What more, The Tree Top Cafe is located in the Urban Kuching City.
The Tree Top Cafe is not literally a cafe on top of a tree as the name suggest, however it is a cafe that located on top of a hill which is surrounded by dense natural trees.
Servings : western style, coffee, tea, BBQ, grill, beer, wine, dessert. Pork dishes is served here. Non-Halal.
Good for : Gathering with friends and family, couple meet ups, small party, Tourist who wish to enjoy nature while dining, wedding photo shoot with the amazing nature.
Operating Hours :Weekday 5pm till 11pm, Weekend 3pm till 11pm, closed on every Monday.
Location : Lot 2223, No.66, Upland Lorong 7, Kuching, Malaysia
Latitude : 1.5349316
Longitude : 110.3535705
Open map with : [Waze] [Google Map] [Bing Map] [HERE Map]
It is located behind ST3 Shopping Mall/Citadines Uplands Kuching
From the main road Jalan Simpang Tiga, drive into the first junction (Jalan Uplands) after you pass ST3 Shopping Mall. Drive straight along Jalan Uplands until you reach Lorong Uplands 7 (after pass Lorong Uplands 9 – the naming of the lane is abit out of orderly). You can try find parking along Lorong Uplands 7, and the cafe is on your left.
Remember, you don't see the cafe at the glance, instead you see a forest with a small wooden door and a walkway up the hill. Believe me, that unusual forest in the residential housing area is your destination. It is literally a hidden cafe in Kuching City.
Parking: visitors can park at the temple at the end of the road, or along the road. It may be some walking distance to the restaurant. Remember to leave a contact in your car if you wish to double park.
Facebook Page:https://www.facebook.com/TheTreeTopKCH
For reservation please contact :
Dennis Chong: 016-8585165
Desmond: 013-8849815
You may need reservation if you wish to have gathering, party and wedding photography at the cafe. You can get amazing forest themed wedding photo shot here.
Email contact: [email protected]
Amazing fact : The Tree Top Kuching has been built more than 10 years ago before its soft opening in October 2017. All these time, the trees around the cafe had grew naturally and creates the amazing Rainforest theme that we see today. It is the both beautiful and natural. They also claim that this is the last forest in the center of Kuching City, and a secret hideaway from the hassle of the city life.
The Environment of The Tree Top Kuching
The cafe is a raised wooden house build beside a slope of a hill. Hence there is a indoor component, which is the wooden cafe house and outdoor component which comprise of the open balcony and the lower level platform. The construction is almost all made from wood and leaves.Purely Natural.
After you walk up the stairs, you will first encounter the outdoor open wooden platform with iron barrels and wooden box. This is actually part of the outdoor dinning area where visitors can get very close to the outdoor natural environment. It is shaded by tall trees and surround by bushes.
Visitors love to have some wine and beer while gathering with friends and chatter throughout the night. You can feel the cool jungle breeze and hear the sound of water from the artificial waterfall nearby. However mosquitoes sometimes can be an issue for some.
You need to take another wooden stairs to reach to the indoor part of the cafe. The cafe house is entirely made out of wood. You will still be amaze to find such amazing wooden house in the concrete urban Kuching City.
Before you enter the cafe, you need to take off your shoes. This is to make sure the cleanliness of the interior, but according to them, this is how the previous generation did it – back to the classics. You can choose to sit on the floor mat or on the classic wooden furniture when enjoying your meals.
You can feel the chills on every step you made as the wooden floor is cool in the night. It is quite a refreshing experience after we had our city life for so long.
Around the cafe there is many classical ornaments and decorations that are from the past generations. It creates a "fly back in time" feel when you are in it. The surrounding is so quiet. The surrounding trees had shield out the sound from the busy street nearby and the light pollution from the surrounding city scape. It is clearly a hidden paradise in a busy city.
The wooden walls is also been decorated to its fine details. Do look around when you dine in. There is allot of nostalgic elements in their decorations.
Overall the dining environment is exceptionally well. We do recommend visitors to come here and try their meals in the rainforest here. Nature lover will sure love this place.
Menu of The Tree Top Kuching
Hand Grab Entree :
Skewered-Grilled Chicken Chop : Boneless chicken whole leg meat, marinated with special black pepper sauce, accompanied with shoestring fries and special sauce.
Hand Garb Fish and Chips : Deep fried battered white fish fillet, accompanied with shoestring fries and homemade tartar sauce.
Pork ke-babes : Charcoal grilled pork lean skewered with fresh cherry tomato and onions, accompanied with shoestring fries.
Chikilikihaha : Homemade shredded chicken salad in 10″ long buns with greens.
Immerse yourself in our jungle tradition! EAT using your fingers.
Special BBQ Set :
Smoked Chicken Set : Best enjoyed with 4-5 pax. Reservation recommended or minimum 40 mins waiting time required.
Tree Top Mixed Grill : Best enjoyed with 2 pax. Reservation not required, may order on the spot.
Sides :
Cheesy Nachos
French Fries
Wedges
Tree Top Greens
Rice Menu :
Homemade Sambal Rice
Signature Pork Belly Rice
BBQ :
3 Layered Pork
Chix Wings (6 pcs)
Lamb Shoulder
King Oyster Mushroom
Beer :
Cody's
Tiger
Heineken
Anchor Draught
Carlsberg
Sweet Tuak
Refreshing Sips :
Shukuluku
Passion Tea
Lemon Mojito Tea
Coke
Sprite
A&W
Bottled Wine :
Tree Top Rice Wine
Gran Castillo Carbenet Sauvignon
Gran Castillo Viura Chardonnay
Gran Castillo Rose Dulce
Gran Castillo Merlot
Coffee :
Tree Top Black Coffee
Espresso
Latte
Cappuccino
Mocha
Caramel Macchiato
Chocolate
Honey Milk
Ice Blended :
Rasp-O-Berry Milkshake
Chokoloko Milkshake
Frosty Mint Milkshake
Affogato Blend
Coconut Blend
Kendondong Blend
Pot Tea :
Violet Rose
Jasmine
Earl Grey
Baby Chrysanthenium
Chamomile
English Breakfast
What we had tried
We had tried out some of their simple dishes. We heard their 3 layered pork was nice and hence we ordered one for our self. They may take some time to prepare the grilled dishes, however when the dishes served hot and crunchy, all the wait is worth while.
The Tree Top Greens is their version of Garden Salad. Greens, tomato and Raisin is a great match. It is mouth watering too.
The chicken wings is also crunchy and tasty. It is Golden Grilled and stand out from the greens.
We save the best for the last. The main reasons for the visit is for their crunchy and tasty 3 layered pork. It is grilled till golden yellow and match well with the chili sauce too. You may need to wait some time for them to make a perfect grill, but at the mean time, enjoy the beautiful environment.
This place is well recommended for friends and family outings, as well as for couples who wish to enjoy their date in a nature themed environment. It is also the best hideout cafe if you want to recommend a cafe to tourist and visitors from abroad. This place emphasis on the natural environment around us, and it is one of its kind in Sarawak, which Sarawak itself is famous for its natural beauty.
Do make a reservation with them if you wish to have a party, gathering or wedding photography at The Tree Top Cafe.