The Musical Fountain of Sarawak River is finally launched officially on 14th October 2018, in conjunction with 82nd Birthday celebration of Tuan Yang Terutama Di-Petua Negeri Sarawak, Tun Pehin Sri Abdul Taib Mahmud.
The Kuching Waterfront had been filled up with local and tourist as early as 7PM at night, awaiting for the colorful moment of the launching of the large scale musical fountain of Sarawak River. This is the biggest and the only musical fountain in Kuching City.
The musical fountain feature various component of Light, Water and Music to complement its magical performance in front of the DUN – the landmark State Legislative Assembly complex opposite of Kuching Waterfront. The musical fountain is constructed by Kuching North City Commission (DBKU).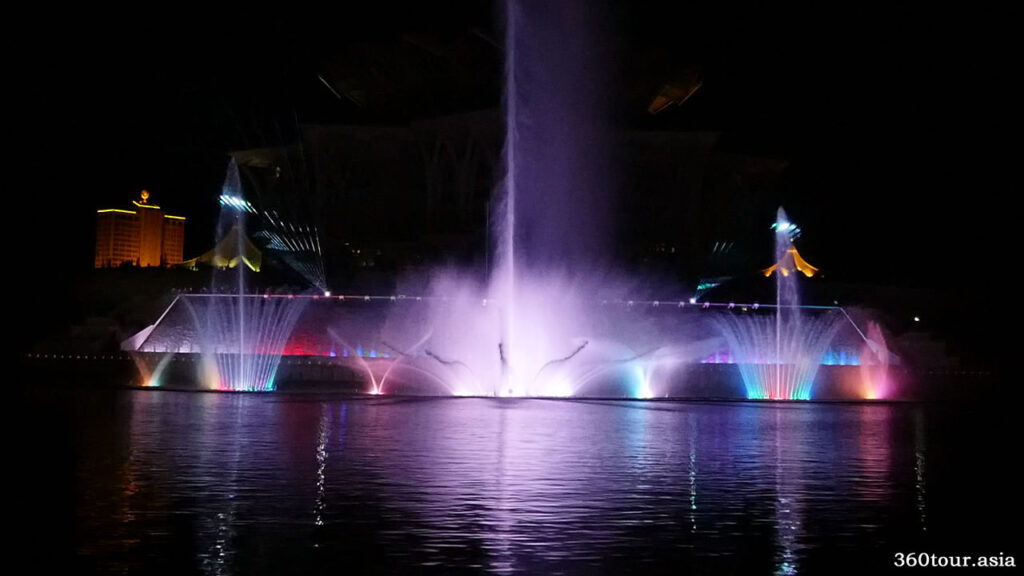 During the launching, the hydro screen showing various dance and motif of Sarawak, which emphasis on the diversity in Sarawak and the harmony between different cultural backgrounds.
It was followed by a musical dance of the water and lights which slowly progress into the highlight of lasers, moving lights and moving fountain jets. The four story height central fountain jet is not to be missed. The water cascade also create a beautiful background lit up with colorful light from the edge. Experience the roaring sound of the water cascade even from Kuching waterfront.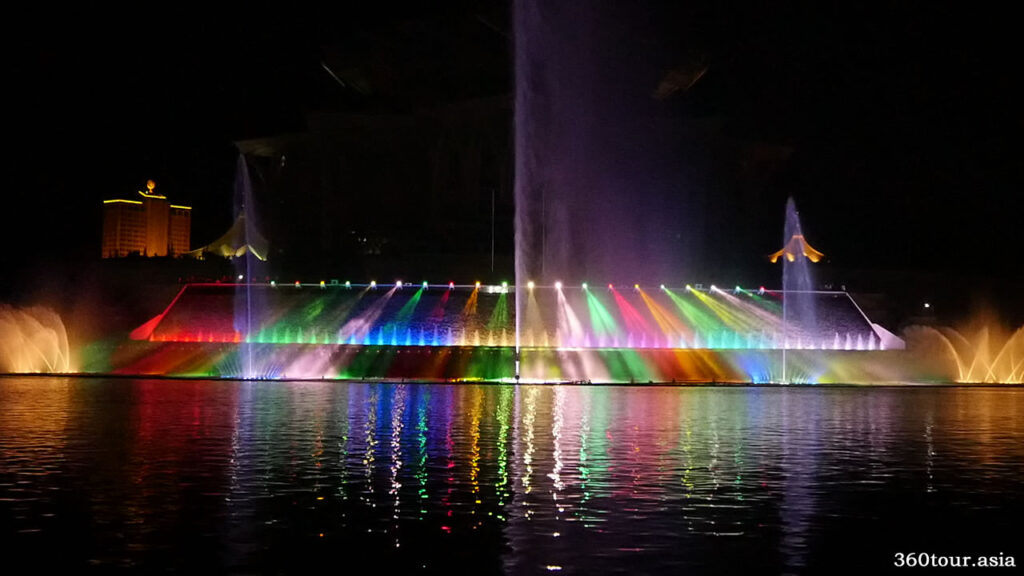 Hundreds of fountain jet nozzle propel powerful water jet from a pontoon beside the river, creating amazing water displays that changes direction and height according to the music. All these is possible with synchronize control with highly specialized computer.
The fountain consist of two tier.
The first tier consist of :
9m x 80m water cascade wall
57 frothy fountain jets
2 hydro screen projectors
2 Laser projectors
20 LED moving head lighting projectors
The second tier is on a floating pontoon with :
56 motorized 3D moving fountain jets
6 sets of 18 nozzle motorized wing fountain jets
2 sets of 39 nozzle static ring fountain
4 single jet fountain (up to 25m)
1 single jet fountain (up to 60m)
1 hydro screen fountain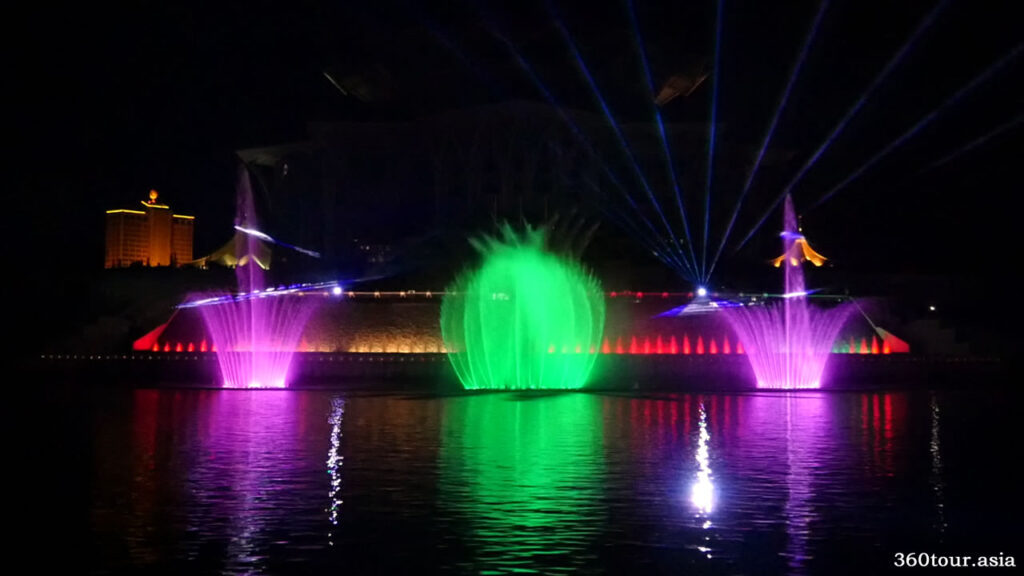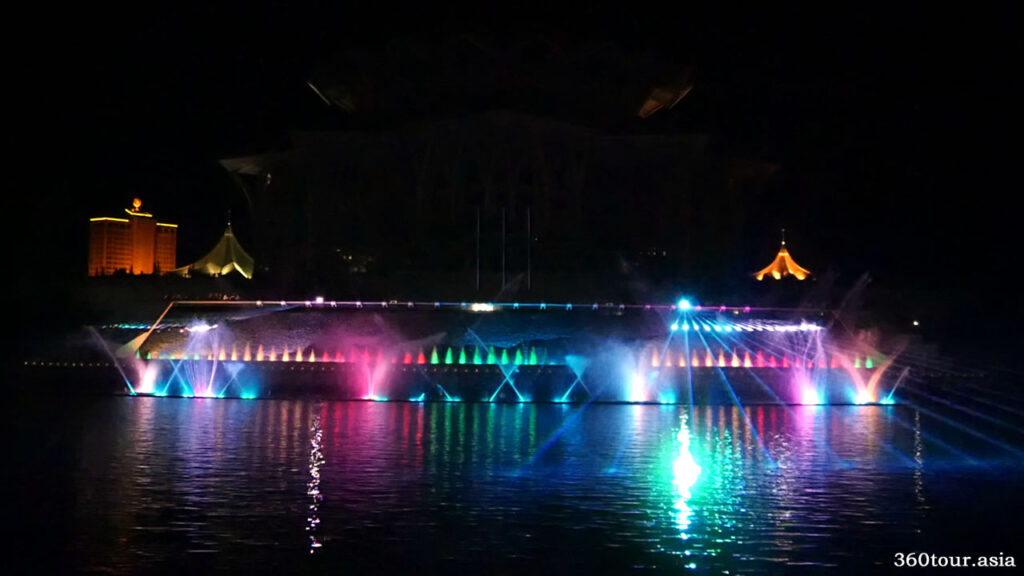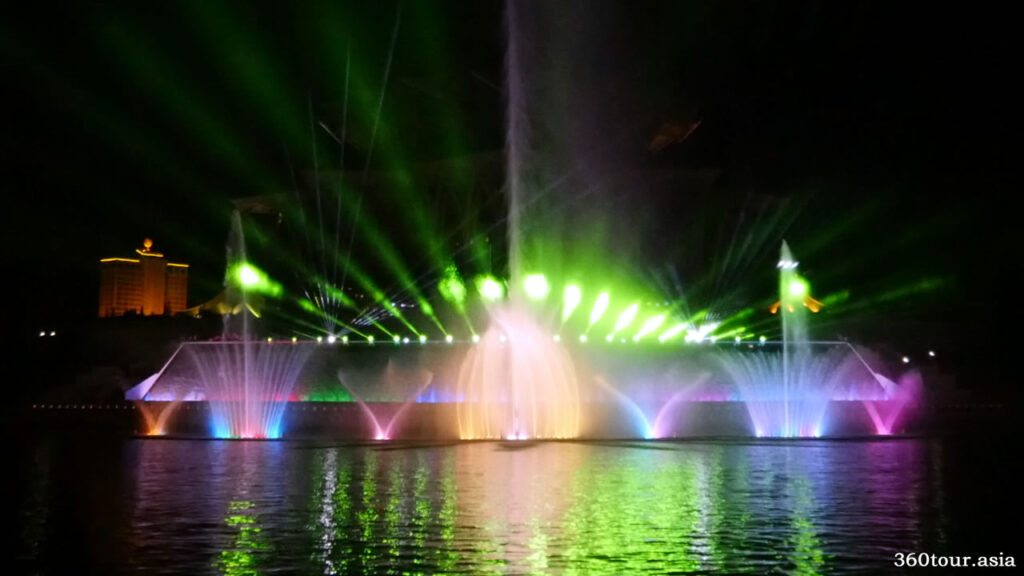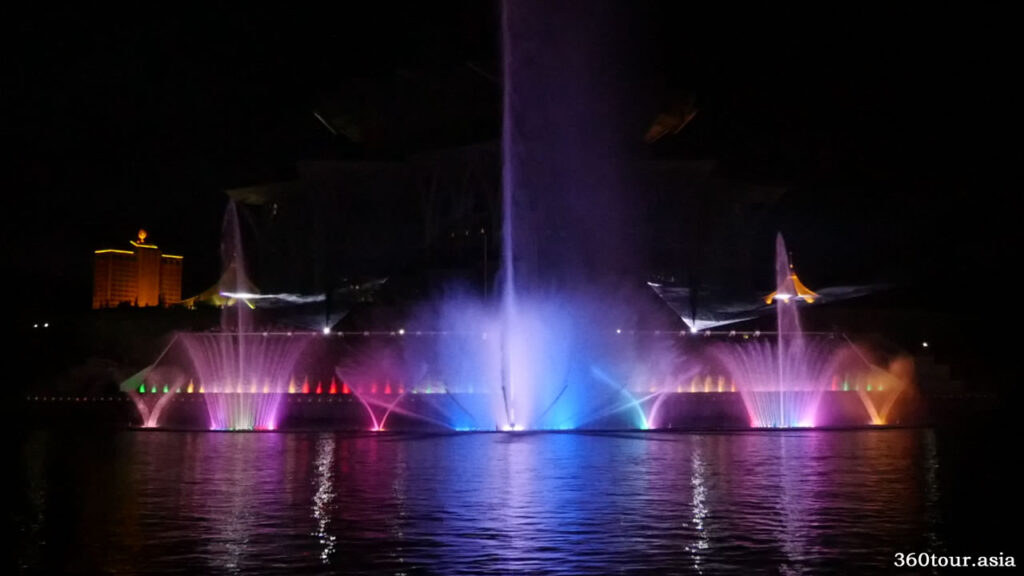 If you miss the launching musical fountain show, don't be disappointed as there will be musical fountain performance twice every night (8.30 PM, 10.00 PM) with each run about 15 minutes.
Other attraction nearby is the Darul Hana Bridge, Astana, Fort Margherita, Floating Morsque, Kuching Waterfront and more.
This is the usual 8:30 pm fountain show "Unity in Diversity".

This is the usual 10:00 pm fountain show.