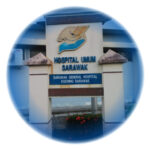 PokéStop Name: Hospital Umum Landmark
Location: Sarawak General Hospital Kuching, Sarawak
Address: Hospital Umum Sarawak, Jalan Tun Ahmad Zaidi Adruce, 93586 Kuching, Sarawak, Malaysia
Latitude : 1.5439499787037707
Longitude : 110.33901469407283
Open map with : [Waze] [Google Map] [Bing Map] [HERE Map]
It is a monument signs of Sarawak General Hospital within the compound of the hospital.
---
Introduction
Sarawak General Hospital is the main tertiary referral hospital in Kuching, which also receive referrals from other hospitals and clinics throughout the state of Sarawak. The hospital had service history dates back earlier than 1870, and the building remains today are mostly extension and expansions from the initial building since 1960s to meet the expanding patient population and increase in healthcare coverage and specialties. Sarawak General Hospital have specialties from major services in Medical, Surgical, Orthopedics, Obstetrics and Gynecology, and Pediatrics, and many more sub-specialization services like neurosurgery, hematology, hepatobililiary, radiotherapy and oncology, haemodialysis etc. It is a state of the art hospital which comprises component of referral hospital, teaching hospital (for medical students, new interns and houseman, also nursing, and other allied healthcare profession), and also a research hospital (a new Clinical Research Center was recently embedded into the hospital compound).
Review
The "Hospital Umum Landmark" is not actually a major landmark of the hospital, but it is a monument signs of the hospital located in front of the specialist clinic building. It is a open area easily accessible by everyone. Every driver who drove by the passenger drop off zone and main lobby will pass by this monument. Opposite this monument is the Hospital Canteen.
The Monument Sign shows the hospital logo with the hospital name. The logo have a motive of a hornbill (the symbolic bird of sarawak) and a open hand, signify reach out to the Sarawak population with open hands. The motto "Quality Patient Care With Personal Touch" clearly depict the meaning of the logo. There is also traditional native motive at the bottom of the signage. The Monument Sign is support by two pillars with pyramid on top of each pillar. The monument is surround by green shrubs and flowers.
The location of this pokestop have close proximity to all major buildings of the hospital, which extends the coverage over the Hospital Canteen, Hospital Public Car park, Specialist clinic building, Main lobby and part of the registration counter. The coverage do not include the main ward building. This pokestop allows Pokemon Go players and patients to enjoy the game play within the hospital even if they are admitted. A good news for those who expected a long wait during clinic visits and wish to kill some time playing Pokemon Go. However many do not get reception of GPS inside the building, hence it may not be playable at certain corners.
There is no other nearby PokéStops within the hospital compound, so don't expect to have a good farming experience. There is a Pokegym just opposite the hospital, within a walking distance. Be careful while playing Pokemon Go in hospital as it is a crowded area with many other diseases within close contact. It is not advisable for routine gameplay, but if you want to kill some time, you can go for it. You are not expected to charge your phone in ward and there is no public accessible power socket to charge your phone around, hence either you had a good battery bank, or just reserve the battery life for emergency uses. Always aware of your surrounding while wander and capture pokemons, you may have high risk to trip over other patients or wheelchairs and crutches. Beware not to play at the roads within the hospital compounds as emergency traffic rush is inevitable.
Conclusion
This PokéStop is good news for patients and family members who wish to kill some time in the hospital, however don't wandered around and always aware of your battery life if you wish to use the phone for emergency contacts.