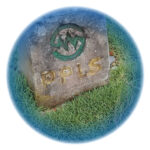 PokéStop Name: PPLS Tombstone
Proper Name: PPLS Underground Power Utility Marker Stone
Type: Utility Markers
Location: McDonald's McCafé MJC Batu Kawa Drive Through, Batu Kawah New Township, 93250, Sarawak, Malaysia
Estimate Location :
Latitude : 1.511493268277569
Longitude : 110.30468337981802
Open map with : [Waze] [Google Map] [Bing Map] [HERE Map]
---
Introduction
The Sarawak Electricity Supply Corporation (SESCO) also known as Perbadanan Pembekalan Letrik (Elektrik) Sarawak or PPLS, is a Corporation responsible for generation and distribution of power supply in Sarawak. PPLS currently have 3 major Hydroelectric power plants (Batang Ai hydroelectric Dam, Bakun Dam, and Murum Dam) and 35 Thermal power plants and diesel-electric plants (including various Gas Turbine, Open Cycle Gas Turbine, Combined Cycle Power Plant, and Coal Fired Power Station).
Due to overcrowding of the surface with High raise and buildings, and for beautification and safety purposes, Many utility such as power distribution lines, natural gas pipelines, sewer drainage, fiber optics, telecommunication lines and water distribution pipelines gone underground. Although they are out of sight, making a city once cluttered with hanging wires and exposed pipeline into a pleasing-to-the-eyes clutter-free city, this underground utilities must be marked, and hence the concrete utility markers are for – to mark the buried utilities. It prevents accidental digs and pilling of the ground and destroy the utility lines.
Review
The "PPLS Tombstone" is a misnomer, as it is not actually a "Tombstone". It is a Underground Power Utility Marker Stone, owned by PPLS. It indicates a high energy power distribution line is buried directly under this location. You can see a series of this Marker Stones along the side of the Jalan Batu Kawa, marking the underground powerlines that power this new township of Batu Kawa. At times the voltage is written on these stone indicating the carrying voltage, e.g. 11KV power lines that connect to area substations that power down to Industrial/commercial 415volts or household 240volts.
The "PPLS Tombstone" pokestop is located beside the car park in front of McDonald's McCafe MJC Batu Kawa Drive Through. The Pokestop radius well extend over the dinning area of the McCafe restaurant, which makes a perfect spot for catching Pokemon while dinning. This 24hrs operating restaurant might considered a bonus to Pokemon Trainers who are also McDonald lovers.
Part of the radius covers the outside busy one way avenue junction. Do not play Pokemon while driving.
There is several nearby pokestop and pokegym at the adjacent MJC new township, however require some walking effort to access all of them. The Batu Kawah MJC new township is a well organized town with neatly planned Commercial area, modern garden and varieties of resident housing from terrace houses to luxury guarded condominium.
This PokéStop have potential to become part of your farming effort if you don't mind walking over some distance to reach all the pokestops.
Conclusion
The "PPLS Tombstone" is a misnomer, however it is still a great PokéStop to visit. It is a safe PokéStop where you can have your favorite McDonald set meal or favorite sip of morning coffee while catching Pokemon.