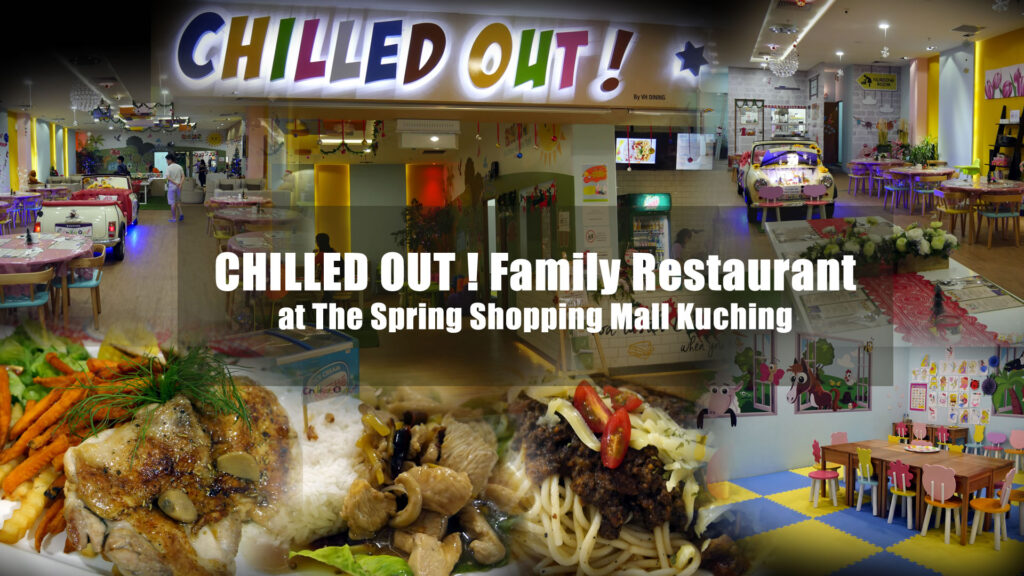 Chilled Out! is the family restaurant with a Difference(!) with its superb child friendly atmosphere which provide all families a great dining as food is more than a necessity where it brings people together whether its connecting with old friends, meeting new interest or just bonding. Chilled Out! pride itself for delivering only the best wholesome meals in a most enjoyable and worthwhile environment that is safe, healthy and with lots of educational value for the kids.
Started on : 1st July 2016
Operation Hours : 10:00 am to 9.30 pm (Sunday – Thursday)
10:00 am to 10:00 pm (Friday, Saturday, Public Holiday Eve & Public Holidays)
Location : No. 222, 2nd Floor, The Spring Shopping Mall, Jalan Simpang Tiga, 93050 Kuching, Malaysia
Tel : 082-232 402
Contact : [email protected]
Facebook Page: @chilledoutthespring
Video
Video taken during our visit to Chilled out ! Family Restaurant during December 2017 when Christmas season is in the air.
Located at 2nd floor of the Spring Mall Kuching, it is neighboring the Kidz Paradize which is a child-centered indoor educational playground center. Opposite the restaurant is MBO Cinemas. Family can have fun at the playground, then have a nice dinner at the restaurant before heading to the cinema.
December is a Christmas season and restaurants never missed out in their Christmas Themed Decoration. Chilled Out ! Family restaurant decked up with colorful lighting and Christmas ornaments.
Inside Chilled Out ! family restaurant, you can have variety sitting choices that fit your taste. Some are more intended for couples while others cater for bigger family with a feel of home.
Do have a early booking of location to prevent last moment disappointment. It is all on a first come first serve basis.
Chilled Out ! Family Restaurant is also allies with other Family Centric Facilities, namely the Kidz Paradize and VH green nature park. We had our visit to VH green nature park few months ago. Read more about VH Green Nature Park with this link.
Our Dinner
Below is some of the food we had tried out. Simple, appetizing and delicious.
The Menu
Below are the menu available during our visit to chilled out! family restaurant.
---
Baby Menu
Porridge
Sunrise Banana
Fruit & Yogurt
Oat & Apple
Blueberry Oat
Smooth Baby Rice
Pasta
Cheesy Veg
Baby Pasta
Baby Noodle
Carbohydrate
Rice & Chicken
Rice & Mixed Fruit
Rice & Mixed Vegetable
Wheat & Honey
Protein
Carrot & Sweet Potato
Apple & Orange Puree
Apple Puree
Pear & Banana Puree
Biscuits & Snack
Farleys Bear Biscuits
Chocolate Biscotti
---
Kid's Menu
Burger & Sandwich
Mini bun served with double layered chicken nugget, fries and coleslaw
Wrap chicken sandwich served with fries and coleslaw
Coney Island Cheesy Burger
Jumbo cheese sausage served with bun, fries and coleclaw
Sausage
Grilled beef sausage served with smile potato and coleslaw
Grilled Chicken sausage served with fries and coleslaw
Barney Cheese Chicken Sausage
Fried cheese sausage served with smile potato and coleslaw
Fish & Chicken
Pan seared fish finger served with fries, coleslaw and tartar sauce
Fried chicken finger served with fries, coleslaw and tartar sauce
Chicken boxing served with fries, coleslaw and tartar sauce
Veggies
Fried potato finger served with fries and coleslaw
Fried potato cake served with fries potato
Kid Set
Chicken or Beef lasagna served with fries
Chicken chop served with fries and veggies
Grilled steak cube served with mixed veggies and fries
Spaghetti, carbonara, Lasagna and fries
Soup
Creamy chicken soup served with toasted bread
Creamy mushroom soup served with toasted bread
Pasta
Bolognaise beef pasta
Pinocchio Pasta Carbonara
Pasta carbonara with chicken ham and button mushroom
Snacks
Runner Spring Rolls
Elsa Smile Potato
Pluto French Fries
Happy Sun
Super Wings
---
Western Menu
A1. Chicken
Pan fried breaded chicken with cheese and fries.
Half spring chicken served with garden salad, fries and corn.
A2. Beef
Grilled Prince Sirloin steak served  with mashed potato and sauted mixed vegetable.
A3. Lamb
Grilled lamb chop with onion ring, corn and mashed potato.
A4. Combo Set
Delicious grilled chicken and lamb chop served with daily vegetables, baked tomato and fries
Delicious grilled chicken and steak served with Chef vegetables, baked tomato and fries.
Mixed grilled assortment of chicken, beef, lamb and sausage with vegetable, mashed potato and corn.
A5. Pasta To Go
Baked homemade pasta layered with beef or chicken, tomato sauce and cheese.
Smoked turkey ham in cream sauce
Aglio Olio
Bolognise Pasta
A6. Fish
Pan fried fish fillet with tartar served with garden vegetable
Chilled Out ! Grilled Salmon
Served with vegetable, mashed potato and honey teriyaki sauce
---
Ala Carte
A7. Sandwiches & Burgers
Fingers Sandwiches (Tuna/Chicken/Eggs)
Chilled Out ! Unicorn Sandwich
Toasted bread with egg, Chicken toast and cheese served with fries
Grilled chicken or beef patty served in bun with coleslaw and fries
A8. Soup & Salads
Creamy mushroom soup with garlic bread.
Freshly made puree soup, thickened with rice & finish with prawn.
An assortment green and red apple, raisin, pineapple, walnut & enhanced with mayonnaise.
Combinations of roasted chicken, prawn, beef & served with fresh crispy garden salad.
A9. Snack
Spring Roll
Smile Potato
French Fries
Squid Ring
Chicken Wing
---
A10. Asian Cuisine
Ayam Penyat, daun ulam, Tempe, Steam rice serve with sambal belacan.
Chicken cooked with ginger and served with veggies and steam rice.
Chicken marinated with pandan flavor served with veggies and steam rice.
Chicken curry with veggie served with steam rice.
Beef curry with veggie served with steam rice
Fried or grilled chicken served with rice, mix veggies and mushroom sauce.
Fried seabass fillet pour with sweet and sour sauce, served with rice and mix veggies.
Steam rice with coconut milk, sambal, fried anchovies, cucumber, boiled eggs and choice of chicken curry or fried chicken.
Minced chicken sauted with chinese eggplant, spring union in chilled out special sauce serve with steamed white rice.
Sauted shreded beef with long chilli pepper, green bean & red pepper served with sauted pak choi and rice.
Grilled marinated chicken with terayaki sauce served with rice and sesame pak choi.
Salmon cook with curry gravy and garnish with fried eggplant, lady finger and tomato serve with steam white rice.
Chicken breast cook with green, red pepper, dry chilli and brocolli served with white rice.
Fried seabass with sambal, veggie and steam white rice.
Slow cooked chicken with rendang paste served with rice and slice cucumber.
---
Drinks
Signature Drink
Coffee
Espresso
Americano
Latte Cafe
Cappucino
Mocha
Caramel Macchiato
Hot Chocolate
Iced Americano
Iced Mocha
Iced Caramel Macchiato
Fresh Juice
Orange Juice
Carrot Juice
Green Apple Juice
Tea in a Pot
English Breakfast Tea
Earl Grey Tea
Jasmine Tea
Mint Tea
Chamomile Tea
Shakes
Chocolate
Vanila
Strawberry
Oreo
Mocktails
Passion Peach Tea
Watermelon Peach Tea
Green Apple Peach Tea
Mango Passion Tea
---
Other Promotions
---