The Kuching Christmas Parade had been an annual event since 2007. It is a joint parade event participate by different churches in Kuching. Last year alone there had been nearly 6000 people participated in the event. This year the event had been proceeded as usual with even more participants, decorative parade floats, costume, flags and band performance.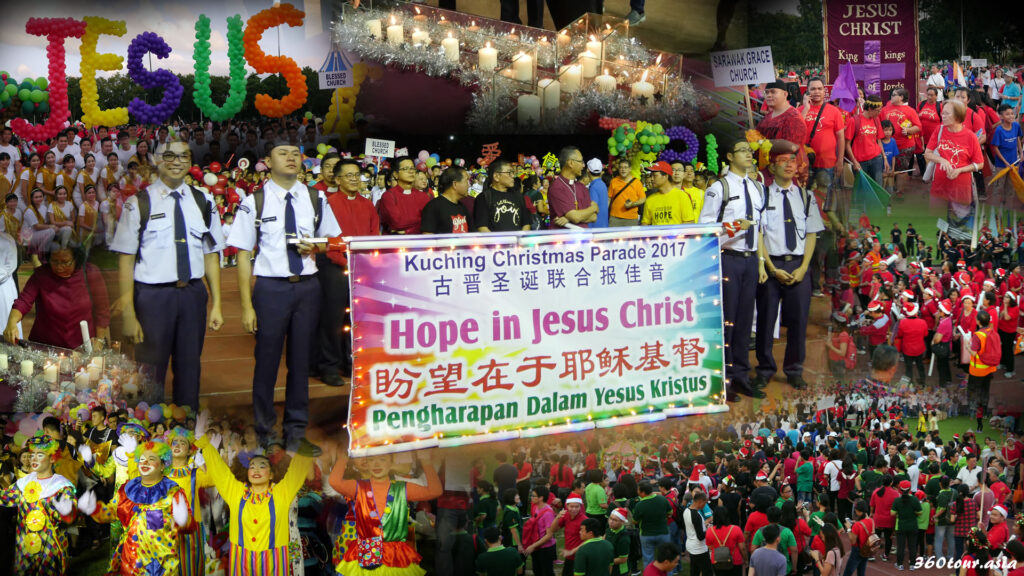 Theme : Hope in Jesus Christ
Date : 2nd December 2017 (Saturday)
Assembly : MBKS Jubilee Ground (6:00 pm)
Parade Route : MBKS Jubilee Ground to Kuching Waterfront to MBKS Jubilee (4km total)
The Video of the Kuching Christmas Parade 2017 :
The Kuching Christmas Parade 2017 is organized by the Association of Churches in Sarawak (ACS) together with the Methodist Church SCAC, Supported by Kuching Ministers' Fellowship.
Participating Groups:
Group 1:  Methodist East
6th Company BB Band
Methodist Ching Kwong 晋光堂
Methodist 34th Mile 颂恩堂
Methodist Simunjan 实恩堂
Methodist Serian 圣恩堂
Methodist Samarahan 三马拉汉卫理中心
Methodist Asajaya 雅沙再也布道处
4th Company BB Band
Faith Methodist Church 信心堂
Methodist Living Hope 城中城布道处
Uni-Central Methodist 城中城堂
Methodist 17th Mile 新生堂
Methodist Chin Ong 晋恩堂
Methodist Chin Seng 晋圣堂
Methodist Samarindah
7th Company BB Band
Girls' Brigade 女少年军
Methodist Chin Daw 晋道堂
Group 2 : ACS
1st Company BB Band
Anglican Church
Roman Catholic Church
Roman Catholic Church Brass Band
Sarawak Baptist Church
BEM (SIB) Church
The Salvation Army
Seventh-Day Adventist Church
Iban Methodist Church
Group 3 : KMF
Blessed Church
Hope Church Kuching
Calvary Family Church
Gereja Grace Sentral (AOG)
GIS Gospel Harvest Kuching
Sarawak Grace Church
Good News Fellowship
City Havest Church
Fellowship of Evangelical Students (FES)
Latter Rain Church Kuching
Group 4 : Methodist West
2nd Company BB Band
Trinity Methodist Church 三一堂
2nd Company BB Band Senior
Methodist Bau 磐石堂
Methodist Sinyawan 新尧湾堂
Methodist 10th Mile 宣道堂
Methodist Lundu 伦乐布道处
8th Company BB Band
Methodist Chin Fu 晋福堂
Methodist Zhu Eng 主恩堂
Methodist Sentosa 圣淘沙堂
Methodist Kuching City Mall
Methodist Matang 马当堂
Methodist Malihah 玛丽哈堂
Methodist Sungai Maong 蒙恩堂
This year the event had been participated by more than 40 churches from Kuching area till as far as Lundu, Sinyawan and 34th mile. There are nearly 14000 people that almost flooded the MBKS Jubilee Ground.
The event started at around 6.30 pm with praise and worship, speech and paryers. The opening ceremony of the event was launched with the lighting of the candles in the form of a cross, symbolize light and hope.
The parade started from Jubilee Ground to the HSBC roundabout and proceed along Jalan Padungan, Jalan Tunku Abdul Rahman (Kuching Waterfront), Lebuh Temple (Harbour View Hotel), Lebuh Wayang (Star Cineplex), Jalan Tabuan (Ting & Ting Supermarket and Borneo Hotel), Jalan Ban Hock (Grand Continental Hotel and MBKS flats) and back to Jubilee Ground.
Christmas caroling, 16 Christmas floats, Costume display and eight brass musical bands are proceed along the route, giving gifts and spreading gospel along the way. It is a event full with cheers and songs. Colorful lights also leads the way.
Due to large amount of participant, the leading contingent also able to meet the remaining teams that about to leave the Jubilee Ground. The Parade took almost one and half hour to complete the 4kM route. It all ends peacefully.