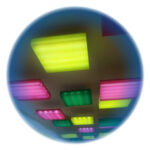 PokéStop Name: Everise Colourful Square Light
Location: Bombay Spices, 4th Mile Penrissen Road, 93250 Kuching, Sarawak, Malaysia
Latitude: 1.5086586440515668 (estimate)
Longitude: 110.33491896090709 (estimate)
* This PokeStop is a misplaced attraction
Actual Attraction Location: Everrise Mall, 4th Mile Penrissen Road, 93250 Kuching, Sarawak, Malaysia
Actual Attraction Latitude: 1.5077462045650087 (estimate)
Actual Attraction Longitude: 110.3345783203622 (estimate)
---
Introduction
Everrise is a local departmental store that have many franchise within Sarawak, selling from daily groceries, grooming products to fashion clothing at debatable prices, focus on upper middle to lower class consumers. The Everrise 4th Mile Kuching is a located at a commercial island zone between two one-way road of Jalan Datuk Amar Kalong Ningkan and Jalan Datuk Tawi Sli, just opposite the Boulevard Shopping Mall and . It served the populated resident area around the 3rd to 4th Mile area, such as Taman Seng Goon, Jalan Hup Kee, Taman Hui Sing, Jalan Arang, Capital Garden and Jalan Kong Ping. This shopping complex consist of one major departmental store, and many other retailer shops (Shoes outlet, hand phones re-sellers, fruit stalls, optics and spectacles services, barkery, Fashion and clothings, hair saloon etc) and multi cultural food court.
Everise Colourful Square Light
The "Everise Colourful Square Light" Pokestop is a misplaced attraction. As the Name and image suggest, it is a ceiling full of colorful square lighting features which is in the common area of the Everrise shopping complex, however user of this PokeStop might not see this features, but instead landed at the shop lots 100 meters away, outside of the shopping complex.
For those who wish to see the actual attraction, do feel free to walk towards the nearby Everrise shopping complex and have a glance at the common hall at the center of the building. The Colorful Square Lights consist of randomly arranged Red, Green and Yellow colored fixtures, which glows Pink, Lime green and Bright yellow when lit up by four florescent lamps within each square fixture. It do style up the place and gives a cool mood to the surroundings.
PokéStop Review
User at this pokestop will see Bombay Spices Restaurant, the restaurant which sells Halal Indian Muslim Food. Majority of the food are Hot and Spicy, with a dash of Indian-malay hybrid, which will sure challenge some of the taste buds out there.
With this misplaced PokéStop attraction, it still can be one of the choice that Pokemon Trainers can benefit from when you drop by to have a hot and spicy Indian-Malay meals at Bombay Spices Restaurant. Occasionally the shop is packed with customers and one may notice the person beside you take out their phone and had a visit at the PokéStop for freebies.
This PokéStop have the radius coverage including the Bombay Spices Restaurant, Am bank adjacent and the car park in front of the Restaurant. Many who drop by this commercial zone will have a stop at this PokéStop for a recharge. There is a PokeGym "4th Mile Food Avenue" just located not far behind this restaurant. The radius is not accessible at the busy one way road nearby.
This PokéStop is not a optimal place for a major farming as there is only one PokéStop within this commercial zone. However there is a more optimum place of farming just opposite the road, at Boulevard Shopping Mall with 7 PokéStop within its building.
Conclusion
This is a misplaced PokéStop attraction, located at Bombay Spices Restaurant, where you can have a meal while playing Pokemon Go with friends and family. However if you want to visit the actual attraction stated, the Color Lights fixtures is just about 100meters away at the Everrise Shopping Complex common area. It is Sub-optimal for farming, but there is a better choice of farming just opposite the main road at Boulevard Shopping Mall.