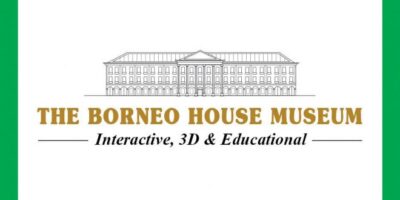 Name: The Borneo House Museum
Adress: No. 1, Jalan Batu 6-7 Penrissen, 93250 Kuching, Sarawak, Malaysia.
Latitude : 1.469877351835409
Longitude : 110.32804702394264
Open map with : [Waze] [Google Map] [Bing Map] [HERE Map]
Tel: 082-622968
Fax: 082-454232
Email: [email protected]
Opening Hours: 9am to 6pm daily. (Last Admission at 5pm)
Admission Ticket Rates:
International – Adults : RM 29
International – Child (3-12)/Student/Senior (above 60) : RM 25
Malaysian (with Mykad) – Adults : RM 19
Malaysian  (with Mykad) – Child (3-12)/Student/Senior (above 60) : RM 15
Child below 3 years old accompanied by adult : Free
Facebook: https://www.facebook.com/theborneohousemuseum/

[extoc]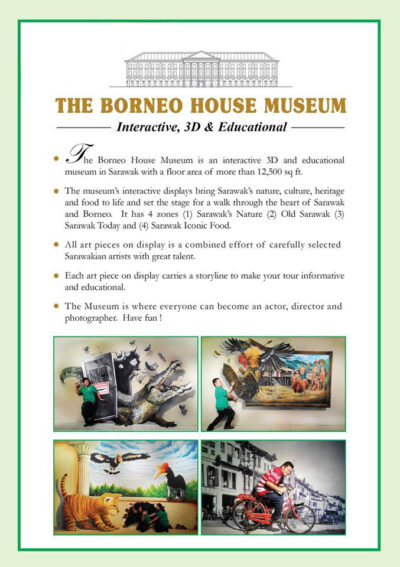 – Interactive, 3D & Educational –
The Borneo House Museum is an interactive 3D and educational museum in Sarawak with a floor area of more than 12,500 sq ft.
The museum's interactive displays bring Sarawak's nature, culture, heritage and food to life and set the stage for a walk through the heart of Sarawak and Borneo.
It has 4 Zones (1) Sarawak's Nature, (2) Old Sarawak, (3) Sarawak Today and (4) Sarawak Iconic Food.
All art pieces on display is a combined effort of carefully selected Sarawakian artists with great talent.
Each art piece on display carries a storyline to make your tour informative and educational.
The Museum is where everyone can become an actor, director and photographer. Have fun !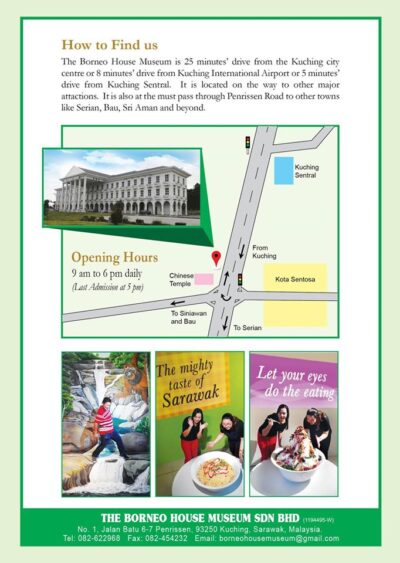 The Borneo House Museum is 25 minutes' drive from the Kuching City Center or 8 minutes' drive from Kuching International Airport or 5 minutes' drive from Kuching Sentral. It is located on the way to other major attractions. It is also the must pass through Penrissen Road to other towns like Serian, Bau, Sri Aman and beyond.
Below is a overview video taken during our tour to the museum.
The Borneo House Museum
The Borneo House Museum is located at the shoulder of the major avenue of Kuching-Serian Road neighboring the busy traffic light intersection between Kuching-Serian Road and Kuching-Bau Road. The majestic three storey white building with contemporary British design and huge Atrium Pillars , with close resemble to the old post office building in the Kuching city center or the Sarawak Museum, was clearly seen from the busy road.
This building was previously known as GEN Education Hub. Currently the building was officially known as The Borneo House. It is an iconic architecture in the area as Sarawak was once under rule of the Rajah, and hence the contemporary British architecture. Part of the building still occupy by PTSC tuition center.
The area is enclosed in a private gated commercial compound with guardhouse and CCTV surveillance for additional security. It was only open to public during operation hours in the day and closed at night.
There is ample area for customers parking within the compound, along the building.
At the Stairway
Not all part of the building dedicated as the museum. Most of the areas is still vacant or under renovations. Visitors many need to find the entrance at the further left of the building. The museum exhibition is at the 2nd floor, and visitors might need to take the stairs. (Wheelchair user might encounter some issues).
At the stairway entrance, you will be greeted by a officer.
Along the stairways there are Murals depicting the Natural rain forest of Borneo, with a unsuspecting Proboscis monkey mural welcoming you at the corner of the stairs. This part of the mural artwork is free for all for photographic opportunity. Along the stairways also depicting the Tree House, Shallow waterfalls, Rafflesia flower of borneo and mountain clifts.
The proboscis monkey or commonly also called as long-nosed monkey or big-nose monkey, also known as the bekantan by local in indonesia, is endemic to the southeast Asian island of Borneo.
Tree house is a very unique survival house in the early days as native build on high grounds to have better view of surrounding and stay away from land predators. This type of housing is rare nowadays and visitors can see and stay in the improvised tree house in Rain Forrest resort.
The Ticket Terms and Conditions
This ticket is valid for admission of one person and single entry into the museum.
This ticket must be retained safely during the course of touring the museum, and be presented for inspection by the museum staff on request.
Ticket purchased cannot be returned, refunded or exchanged.
Visitors to the museum premise must at all times adhere to signs, directions, supervision and guidance from our staff.
The management reserves the right to alter advertised arrangements, cancel any exhibition time slot and/or close the exhibition without notice. In event of any such changes, (a) we shall not be held responsible for any loss of business revenue, profits, anticipated savings or goodwill (whether direct or indirect) or for any indirect, special or consequential loss of any kind and in any case howsoever arising, even if you have advised us of the possibility of same; and (b) our maximum liability to you shall not exceed the total amount you paid for this ticket.
We have the right, without liability to you, to refuse your entry into the museum, and/or escort you from our premises if you, in our judgement, breached any of these conditions.
The Borneo House Museum shall not be responsible and shall not assume any liability for any damage to or loss of the property or belongings of any guests, whether such damage or loss is caused by our negligence or otherwise. The ticket holder voluntarily assumes all risks and danger incidental to the event whether occurring prior to, during or subsequent to the visit, including any death, personal injury, loss damage or liability.
A fine will be imposed on anyone found to have caused any damage or lost of any part of the exhibit of the museum.
The Borneo House Museum reserves the right at its absolute discretion to vary, delete or add to any of the ticket terms and conditions without prior notice.
The Merchandise Section
In the lobby in front of the counter, there are several merchandise to purchase, including books, snacks, food and drinks. The classic books with history of old Sarawak and Borneo is available to be purchase at a flat price of RM69.
After entering via the side of the ticket counter, there is a small wall picture depicting "Live Love Laugh" and "Life is Beautiful".
The Mural and Replica Exhibition
There is four main exhibition zones, namely:
Sarawak's Nature
Old Sarawak
Sarawak Today
Sarawak Iconic Food.
Sarawak's Nature is clearly expressed in Murals and artwork, which includes famous legend of Bujang Senang, Ritchie the Orang Utan and Empurau. Also Cultural Murals of native daily life and cock fighting, and Bidayuh Single House replica.
The Old Sarawak is protray in form of office setup of Sarawak third Rajah, the Mannequin replica of first Rajah, various antiques like the mechanical typewriter, cyclostyle machine and the bicycle of Kuching Bazaar.
Sarawak today is clearly seen in Discover Kuching Mural and the Aerial photograph of the Kuching Festival 2016. There is other creative background and cut out mock stamps for your photographic needs.
The last section is the Sarawak Iconic Food where there is variety huge replica of Sarawak Iconic food from exotic Sago worms to layer cakes and desserts for your photographic and educational needs.
3D Mural: Legendary Bujang Senang
The first mural after the entrance is a Huge crocodile breaking free from the iron door. "The crocs is on the loose !!! " . The 3D mural portray the action of a vigorous giant crocodile, which comes from the famous legend of "Bujang Senang". It is a crocodile spices Crocodylus porosus which is larger than human with length of 20 feet and was once feared for its love for human flesh … At the metal door clearly say "Extreme Danger" with a size comparison of average human to the crocodile. Who will dare to come near this croc ? will you ? let's venture into this dangerous journey of Man Vs Crocodile.
Bujang Senang was a 50 years old white crocodile with a white strip on it's back. It lived in the Batang Lupar River in Sri Aman, was from the species, Crocodylus Porosus. Locals believed it was transformed from an Iban warrior named Simalungan from Saribas, who was killed and vowed to return to take revenge. It attacked and devoured humans but was finally shot dead in 1992.
The Mural was created by the self-taught Mural Artist Leonard Siaw.
Graphite Pencil Wildlife Art: The Long-nosed Monkey
The Proboscis monkey or also known as Long-nosed monkey is a large monkey species that is unique to the Borneo island. This monkey have a very unique dimorphism – the large nose of the male monkey hangs lower than the mouth, which is more in the male spices than the female. This rare monkey species is nicely captured and portrayed in the graphite pencil wildlife art by the Artist Karen Phillips.
3D Mural : Empurau
There is a saying that you never considered tasted all the Borneo delicacies if you never tasted Empurau. It is a species of freshwater fish native to Southeast Asia. Although it is not a day to day dish of fishes, but it will sure be a luxury treat to your taste buds if you can afford it. Many had attempted to breed this fish in artificial waters, but the taste is still never beat a wild one in the open freshwater.
In this interactive 3D mural, it depicts a huge Empurau jumping out of the wall of water after being on-hooked by a fishing rod. The artist brought out an interesting concept into this mural – by placing a fishing rod at the side of a bordered image and brought sense of life to otherwise static image. Dare to rustle with this luxury catch of the day !
In this mural also depicts a wandering natives on unique boat on a freshwater water body with Empurau within.
Empurau is the most expensive freshwater fish in Malaysia and one of the most expensive in the world. It is considered to be the "king" of Sarawak major rivers. It has bright beautiful scales which are edible, with barbells at the tip of its mouth. It's flesh has an aromatic and rich texture. It is omnivorous and feeds on fruits, plant, small crustaceans and algae.
The Mural was also created by the self-taught Mural Artist Leonard Siaw.
3D Mural: The Cat , Hornbill and the Mouse hole
A very unsuspected turnout of event ~ when human is depicted as a mice in a mouse hole, and your household stripped tabby cat is bigger than you. In this mural, Large sized Tabby cat and two Hornbills is preying on you – humans.
Two important elements in this mural is the cat and the hornbill. Cat is related to the city with the name is a cat – Kuching city. Hornbill depicted is the Rhinoceros Hornbill which is the state bird of Sarawak, Malaysia.
This Mural is created by a Self-taught Artist Chin Nyat Khui @ Baron.
3D Mural: Orang Utan Ritchie at Jangkar Fall, Kpg Biawak, Lundu
Orang Utan are exclusively Asian species of extant great apes which is native to the rainforests of Borneo and Sumatra. It is a critically endangered species and highly protected by the nation. Orangutans are among the most intelligent primates that have ability to use sophisticated tools. Currently Orangutans are kept in dedicated wildlife preserve such as the Semenggoh Nature Reserve near Kuching city.
Ritchie is the largest and oldest (35 years old) male Orang Utan at Semenggoh Nature Reserve. The painting shows it enjoyed outing at Jangkar Fall, near Lundu.
This Mural is created by Artist Sebastian CY Jong.
3D Mural: Along with the Natives
This mural depicts the daily living and costumes of the natives, with the background of hilly plantations.
House Replica: Bidayuh Single House
Ethnic Bidayuh is concentrated at the road leading to puncak borneo, some of them still stay in traditional houses built with wood and bamboo and still have a strong hold on their culture. Annah Rais Bidayuh Longhouse is a famous hotspot for tourism due to its close proximity to Kuching City and have preserved many of the unique culture in their housing and daily living.
In this replica of Single House, it is clearly showing the basic component of a functional house. Its simplicity of bamboo constructed walls and floor, supported by wooden frames still amaze many visitors.
Replica: Office of Sir Charles Vyner Brooke
Sir Charles Vyner Brooke is the Third and the last Rajah of Sarawak. The Office showcase few classical office equipment such as the office table, the classical mechanical typewritter , and a turn dial phone. All this relics of the past are an important artifact that shows how much we had advanced from our former fathers. Also on display are the Original copy of Sarawak Land Indenture (1897) and Sarawak Land Grant (1924).
Hand coloured lithograph are also been display at the side of the office. Two lithograph from "The Illustrated London News" 1864 is on display, portraying "Dyaks in their war dress" and  "Government House, Sarawak". Lithograph is used in the printing press in the early days to enable illustration to be produced in printing materials such as books and newspaper, and these was the days before photography was possible in mass printing. These illustrated lithographs is based on real events and scenery and have an important role preserving an historic moments.
3D Mural: Cock-fighting
Cock-fighting is a favorite pastime game among the native population. This brutal blood sports involves two well trained roosters fighting for their survival and the last surviving ones will win the fight or the game. Some fight for the pride and yet some fight for gamble.
In this interactive mural, you will be the one fighting with a well trained furious rooster that burst out of the picture frame, and all you have is a parang (native knife) and a wooden shield. Will you survive the fight ? the other furious rooster is following behind ! and the native are watching, in entertainment.
Sabong or cock-fighting is a typical culture and traditional sport practiced by the native community. Iban warriors wear decorated headgears with beautiful Angus Pheasant feathers during major festival like Gawai Dayak. A knife called "taji" is tied to one of the legs of the cock. The art of cock-fighting is unique in Sarawak.
The Mural was also created by the self-taught Mural Artist Leonard Siaw.
Interactive 3D Mural : The 8 O'clock Cannon at Fort Margherita
Fort Margherita is located at the opposite of the riverfront of Sarawak River. One can still see the castle like structure opposite the river from the city. Build during the era of Brooke Dynasty, this fort have a good view of the old kuching town and the once important trade and transportation route – the Sarawak River.
As illustrated in the mural, which depicted the real fort structure, there are tall defense walls, guard towers and many canon port holes. Most of the canons are aimed at the river in defense of enemies from the river. However in this mural, the focus is on the 8o'clock Cannon, which is used mainly for time signalling purposes. Dare you come and lit this once an important cannon ?
Fort Margherita was built in 1879 in the style of a British castle. It was names after the second Rajah of Sarawak, Sir Charles Brooke's wife, Margaret Alice Lili de Windt. During the period, each evening at 8 o'clock, a cannon was fired from Fort Margherita across the Sarawak River. It served as a signal for the guests to leave the Astana and that the Rajah and his family were going to have their dinner. The tradition was carried until 1960s.
Historical Machines: Cyclostyle Machine
Cyclostyle Machine is the form of printing by method of stencil copying. In olden days before photocopier is invented, printing comes in many forms. In Cyclostyle printing, a glazed paper is used as a stencil for mass printing. It was also used in schools for mass printing of exam papers and forms in the early days until phased out by cleaner and less cumbersome photocopier.
Replica: Sir James Brooke
Sir James Brooke is the First Rajah of Sarawak. In this section visitors can have a photo opportunity with the life size mannequin replica of Sir James Brooke.
First Rajah of Sarawak.
Born 29 April 1803. Died 11 June 1868.
Installed as Rajah on 24 Sept 1841 and served until his death.
Replica: Dressing Table
A small antique of the past which is available in most olden home – the dressing table. It is usually a wooden table with a huge mirror in front, and various compartment for dressing and makeup. On top of the table are various items used in the olden days.
Replica: Bicycle and the Main Bazaar Kuching 1950's
Bicycle is one of the common road transport means in the earlier days. Main Bazaar is one of the area at kuching old town where people gathered.
In this replica set, an old Red pedal bicycle is placed in front of the full sized black and white photos of the Main Bazaar. All visitors are invited to have a ride on this bicycle and imagine you are back in the olden days of 1950.
3D Mural: Broken Walls – Discover Kuching
A very interesting mural that dub the name "discover kuching". The artist depict a broken walls with broken pillars and stucked "Thor-like-hammer", from the opening of the wall, the typical kuching riverfront scene of the fort , Sarawak River and the Sarawak State Legislative Assembly Building can be seen. The Artist welcomes you to break off the old perception and walks toward the new land with new discovery to be made – Discover Kuching in a new perspective.
This Mural is created by Artist Sebastian CY Jong.
Photo: Kuching Festival 2016 Aerial View.
Every year, Kuching South City Council will launch a month long festival events to commemorate Kuching being elated to a City status on 1st August 1988. In the festival, many stalls are set up along the municipal area, ranging from local handicrafts, promotional items, kitchen utensils, and various food and beverage stalls. Other than the stalls, there is Fun fair area, Artificial Gardens, and cultural performance stage. It was held to boost local tourism and food industry.
In this photo taken by Micheal Liew Yong Fei shows a Aerial view of the Kuching Fest 2016. A good contrast of orange hue of nightfall sky afar and artificial lighting from the bustling stalls below.
Topographical Map of Borneo
Sarawak Iconic Food
Visiting Sarawak is not complete if you haven't try out our unique multicultural and multiracial of local food and delicacies.  Before you know what will be in your next food hunt list, lets have a brief overview of what is the Iconic Food of Sarawak.
Sarawak is famed for its diverse delicious food due to its multiracial population. It offers a variety of mouth watering street food that pleases your taste bud.
Food Replica: A food Experience like None Other – Sago Worms
Erie as its sounds, Worms is still a favorite among the delicacies of the natives, what i meant is not any worms, but Sago Worms. This unique and well fed squishy wriggly worms is "taste like chicken". Dare to try ?
These worms is mainly found in sago palm tree trunks. Sago worms are immature offspring of a snout beetle called Rhynchophorus ferrugineus which was also called red palm weevils or sago palm weevil. At its larva stage, these worms feed on soft fibres and terminal buds, tunneling through the palm trees, which eventually kills the sago palm tree. A well fed Sago Worms can grow up to six to seven centimeters, rich in protein and taste extraordinary with fresh or deep-fried. An exotic dish indeed.
Sago worm is a delicacy of the indigenous people of Sarawak. The worms are taken from the fallen trunks of the sago palm. The worms can be eaten alive by popping its wriggling body, tail first and bit off its head before swallowing it whole. It can be deep-fried too. It is rich and creamy and also very nutritious as it is full of protein.
Food Replica: A Sarawak Favourite – Sarawak Laksa
Sarawak Laksa is one of the favourite dish in Sarawak. Spicy sambal paste with a sweet taste of coconut milk, tender with shrimps and a harmony with shredded meat, Sour with lime but yet original with vermicelli… is like a all in one harmonic dish of various taste, that will sure excite your taste buds. It is beyond expression of words, a must try dish indeed. The rule of this dish is, you don't gallop the whole dish at once, you have to taste it slowly and let your taste buds tells the story.
Sarawak Laksa is a signature and must try dish while in Sarawak. It consists of vermicelli with a shrimp based broth thickened with coconut milk. It is garnished with prawns, shredded chicken meat, julienned omelette, beans sprouts and chopped parsley. It is served with a thick sambal paste and lime (limau Kasturi) at the side.
Food Replica: The Mighty Taste of Sarawak – Kolo Mee
Kolo mee is one of the popular dish among the locals. It is a egg noodle dish dashed with red sauce and sprinkle of fried onion and dressed with a few slice of red barbecued meat, usually pork. It is a non-halal dish if involves pork, however there is many other variant present. It is a simple all-time dish that many hawker stalls in Sarawak offered Kolo Mee as one of their dish in menu.
Kolo Mee is a popular dish in Sarawak. It consists of egg noodles tossed in plain or red sauce together with fried onions. It is topped with barbecued meat (char siew), minced meat and local vegetables. It is eaten as breakfast, lunch and even dinner.
Food Replica: Taste the Temptation – Tomato Kueh Teow
Another fusion dish of merging Fried rice noodle – Kueh Teow , with tomato based gravy. The outcome is a sweet and sour fusion dish of Tomato Kueh Teow. One must also try this while in Sarawak. There is other variant of Tomato fusion dish available.
Tomato Kueh Teow is a uniquely Sarawak dish. It is fried rice noodles served in a tomato based gravy with sliced fish ball, fish, meat and local vegetables. It has a slightly hint of sweetness in its taste.
Food Replica: Simply Natural – Sarawak Rojak
In the western we have salad dishes, in Sarawak we have Rojak. Rojak is a mixed vegetable dish with a dash of shrimp paste and tamarind. It can be a light dish or snack dish. In other variant with more elaborated Mixed Rojak dish with fruits and squid, it can become a main dish. One shall not need to cook a Rojak dish.
Sarawak rojak consists mainly of sliced pineapple, jicama (sengkuang), cucumber and puffy deep fried beancurd (taupok). It is mixed with a sweet and fragrant saurce made of shrimp paste (haeko), sugar and tamarund. It is served with coarsely chopped roasted peanuts.
Food Replica: Let your eyes do the eating – Iced Kacang Cendol
Iced Kacang Cendol is a all in one ice blended dessert that is mainly have its fusion sweetness from various natural sources from red beans, green jelly, grass jelly, sweet corn, sago pearls etc. It is just pure sweetness, a great complimentary dessert dish after your heavy oily meals in a hot tropical day.
A look at the dessert, one might say it is colorful – Green from the jelly, Red from red beans, pink from rose syrup, Yellow from Sweet Corn, White from the milk, black from grass jelly, which is all toppings on top of crystal clear shaved ice. A partial rainbow dessert with occasionally evaporated with white cold vapour will sure be a feast to your eyes before you taste it. As the title says – let your eyes do the eating.
Iced Kacang Cendol is shaved ice with red beans (Kacang), green starched jelly noodles (Cendol), grass jelly, sweet corn and sometimes sago pearls. The final topping is either coconut milk or evaporated milk, together with red rose syrup and sarsi syrup.
Food Replica: Desire for good taste – Roti Canai
Food Replica: Best of Sarawak – Sarawak Layer Cake
Can a layer cake be more colorful that this ? The Sarawak Layer Cake or Kek Lapis Sarawak is an art and masterpiece by itself. Each layer is carefully layered, creating simple alternating color layer cake or even more complex layer cakes with traditional motifs and geometry. Many was amazed by how it was done, and the answer is – not a simple dish. It requires hands of accuracy, mind of creativity and years of training.
Sarawak Layer Cake is a colourful multilayer cake with diffrent designs. The key ingredients are butter, milk and eggs. It is delicious and considered as an "art-food".
Food Replica: Good to the last bite – Satay
Satay is a common barbecued meat side dish that is available in Sarawak. There is various meat available, from chicken, beef and pork, however Chicken Satay is still the mainstay favourite. These barbecued meat on a stick can be a snack dish while walking on the streets. It is easily prepared and will be good to the last bite. Since it is boneless, what left over is just plain sticks after a feast.
Food Replica: Simply better noodle
Noodle is one of the favorite dish around Sarawak. It can have many variant of simple noodle dish, based on method of preparing, and its toppings. Do feel free to have taste on all these different variants.
Well, thats sums up most of the tour. We have a great time and so you will. Come here with your friends and family and have a interactive and educational journey in the Borneo House Museum.