Name : 天福素食馆 Thank Food Vegetarian Restaurant
Type : Chinese Cuisine Vegetarian / Vegan Restaurant
Address : No 30-31 Jalan Petanak 93100 Kuching, Sarawak, Malaysia
Located at the Kuching City center, with a close vicinity to the Riverine Sapphire Condominium. It is also a short drive from the Padungan Roundabout Cat Statue and the Kuching South City Hall.
Latitude : 1.5552798988647276
Longitude : 110.36251350425705
Open map with : [Waze] [Google Map] [Bing Map] [HERE Map]
Contact : 082-236 806
Facebook Page : https://www.facebook.com/Thank-Food-Vegetarian-%E5%A4%A9%E7%A6%8F%E7%B4%A0%E9%A3%9F%E9%A6%86-1501440256842736/
It is a locally well known Chinese Vegetarian and Vegan Restaurant. It serve delicious vegetarian food and have many different variety. The restaurant can fit around 100 people and it is suitable for small events and gathering.
The price is acceptable for the good quality food served. The taste is suitable for both vegetarian and non-vegetarian. The "meat" are mainly gluten based. For non-vegetarian, the "meat" do taste like real meat.
The restaurant serve lunch and dinner. Small gatherings may require reservations.
The restaurant environment is also comfortable and air conditioned. The lighting is warm yellow with cream colored wall. A good environment for dining.
Main Menu
Main Menu of Tank Food Vegetarian Restaurant, Available in small, medium and large size dish. The menu may subject to change.
四星报喜 Four Varieties Combination
五福临门 Five Varieties Combination
竹笙鱼翅羹 Bamboo Shark's Fin Soup
发菜鱼翅羹 Shark Fin Soup with 'Fa Chai' Soup
海味竹签羹 Bamboo Shoot with Seafood
发菜海参羹 Seacucumber with 'Fa Chai' Soup
酸辣玉子羹 Szechuan Hot & Sour Soup
粟米豆腐羹 Sweet Corn Beancurd Soup
香椿皮蛋豆腐 Homemade Special Beancurd
红烧豆腐 Braised Beancurd
板烧豆腐 Hot Plate Sizzling Beancurd
咖喱什菜 Curry Mix Vegetable
咖喱冷当 Curry Rendang Chicken
咖喱羊肉 Curry Mutton
塔香一品锅 Clay Pot Mushroom
奶油菇 Butter Mushroom
麦片菇 Oat Mushroom
酸甜菇 Sweet & Sour Mushroom
娘惹鱼 Nyonya Style Mock Fish
芝士鱼 Butter Cheese Fish
蒙古式鳕鱼 Mongolia Style Cold Fish
泰式金福袋 'Golden Bag' with Thai Style
红烧狮子头 Braised Lion Head Balls
蒙古凤球 Meat Balls with Mongolia Style
三杯鸡 'Shan Bei' Chicken
煲仔狮子头 Claypot Lion Head
上海四季蔬 Mixed Vegetables with Almond Shanghai Style
香酥脆皮鸭 Crispy Duck
杏香排骨 Almond Ribs
蚝油时蔬 Fresh Seasonal Vegetarian with Oyster Sauce
罗汉伊面 Long Life Noodle
鸡丝面 K.C. Noodle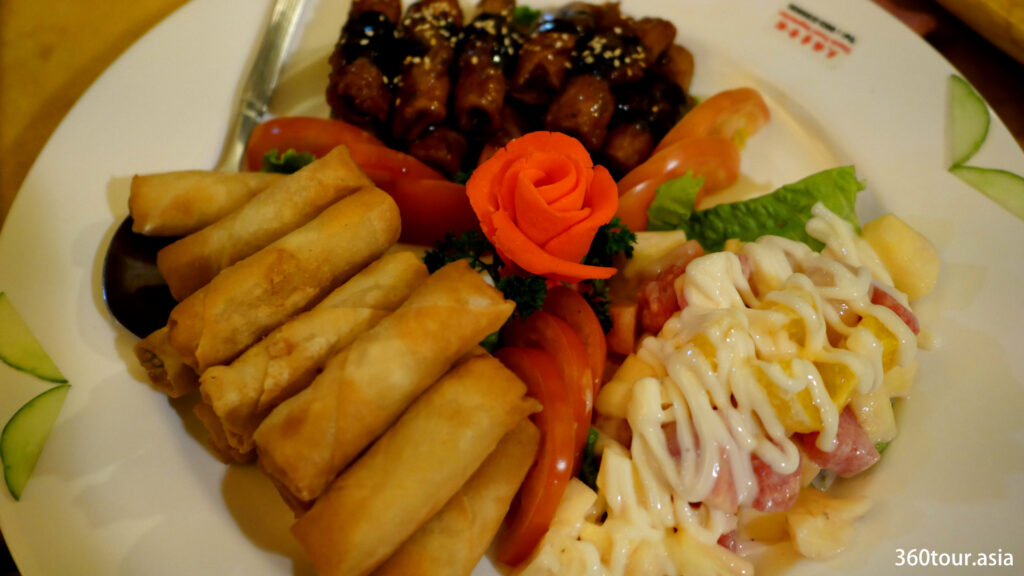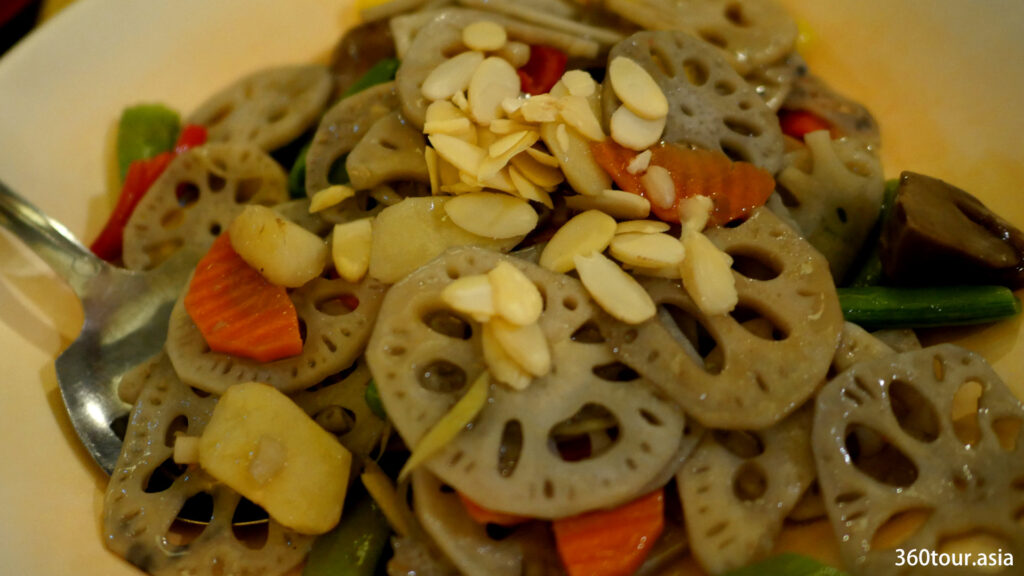 Drinks and Beverage Menu
The Drinks and Beverage menu of Thank Food Vegetarian Restaurant.
Drinks (Available in option of Hot and Cold drinks)
咖啡/鲜奶咖啡 Coffee/Coffee C
咖啡+糖 Coffee O
奶茶/鲜奶茶 Tea/Tea C
美禄/鲜奶美禄 Milo/Milo C
美禄+糖 Milo O
豆奶 Soya Bean
酸桔水 Lime Water
柠檬水 Lemon Water
中国茶 Chinese Tea
菊花茶 Chrysanthemum Tea
凉茶 Liang Tea
香片茶 Xiang Pian Tea
Juice
苹果汁 Apple Juice
柳橙汁 Orange Juice
凤梨汁 Pineapple Juice
西瓜汁 Watermelon Juice
番茄汁 Tomato Juice
黄瓜汁 Cucumber Juice
萝卜汁 Carrot Juice
Hot Tea Pot
中国茶(壶)Chinese Tea (Pot)
菊花茶(壶)Chrysanthemum Tea (Pot)
普洱茶(壶)Pu Er Tea (Pot)