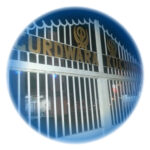 PokéStop Name: Gurdwara Sahib Sikh Temple
Location: P O Box 693, Mosque Road, 93400 Kuching, Sarawak, Malaysia.
Estimate Location :
Latitude : 1.5577836550162976
Longitude : 110.3421243354569
Open map with : [Waze] [Google Map] [Bing Map] [HERE Map]
Other Name: Sarawak Sikh Temple Association
Carpark Operating Hours: Monday – Saturday 7:00 AM – 8:00 PM , Strictly for Members Only.
Facebook: Gurdwara Sahib Kuching
Related Website: Gurudwara Sahib Kuching, Sarawak at allaboutsikhs.com
---
Introduction
Sir James Brooke recruited personnel for the Sarawak Police Force in Singapore. The first batch of 13 Sikhs led by Dewa Singh Akhara, were brought Kuching. These Sikhs played an important role in bringing peace, law and order to this area. Sikhs who came later were employed as prison wardens by the Government and as security personnel by the Sarawak Shell Company in Miri. It is also believed that there were a few Sikhs in the Sarawak Rangers, which was formed in 1872.
On the 1st of October 1910, the Sikh congregation, which consisted mainly of Police personnel and watchmen, decided to build a Gurdwara Sahib in Kuching. A piece of land, 0.37 acres in size, was obtained for this purpose from the Goverment. The construction on the double storey wooden building was completed and officially declared open on the 1st of October 1912.
Over the years, this Gurdwara Sahib was repaired on several occasions. As the Sikh Sangat had grown considerably, the Gurdwara Sahib building was found to be inadequate. It was finally demolished in 1980 to make way for a new building.
Construction of the new three-storey building commenced in the late 1980s. There are six golden coloured domes on the top of the Gurdwara Sahib building. The Darbar Sahib is located on the second floor. The langgar hall, kitchen, office and store and a guest room are located on the first floor. The Granthi's quarters, ration store, guest's room and a hall are located on the ground floor.
Presently, there are about 75 families who participate in the religious activities in the Gurdwara Sahib. the usual weekly prayers are held on Sunday mornings at 9.00am. Other religious programmes are held as and when necessary at the request of the sangat.
(General Information adapted from Gurdwara Sahib Kuching Facebook Page)
Review
The "Gurdwara Sahib Sikh Temple" PokéStop corresponding to the Gurdwara Sahib Kuching Building, at Jalan Masjid (Mosque Road) in the Kuching City center. It is organized by Sarawak Sikh Temple Association. This place of interest is classify as religious building. Other nearby buildings on the same road access are Saujana Carpark & Food Court (opposite), Jabatan Penerangan Malaysia Bahagian Kuching dan Samarahan (adjacent), Anti Tuberculosis Association of Sarawak (Atas) clinic and Polyclinic (two buildings away), Yayasan Sarawak (opposite corner blocks).
This is a famous PokéStop as there is many major government and healthcare facilities around. This area is usually very packed during peak hours and office hours. With the old shophouses and old bus stop nearby, it is still a major hub within the city.
The PokéStop radius extends into the Gurdwara Sahib Kuching Building, Part of the Saujana Parking, and part of the Jabatan Penerangan Malaysia. User of the Mosque Road can also get a good coverage of the spawn radius, however don't drive and play, as many pedestrian around this area. Always aware of your surrounding while wander and play.
There are also other PokéStops around, but require some walking distance across the busy roads, make this stop sub optimal for major farming. But if you are happened to be around, you are welcome visit this PokéStop.
Conclusion
This PokéStop is surround by many government and healthcare facility, it is beside a heavy congested one way road, so be aware of your surrounding while playing Pokemon Go. This PokéStop is sub-optimal for major farming.